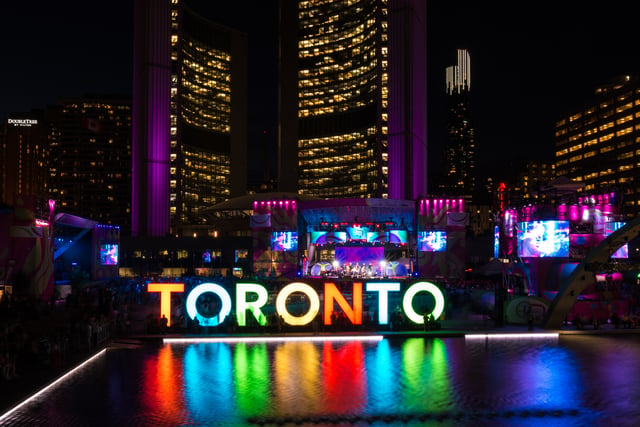 Toronto is a diverse city with beautiful waterfront views, high-class restaurants and a treasure trove of entertainment venues and clubs. It's the perfect destination for a weekend getaway and there's no better way to arrive than by a private aircraft charter that lets you choose when and how to fly.
The city is the cultural, financial and entertainment capital of Canada and many of its hotels and dining establishments cater to a chic, urban clientele. Known as "Hollywood North," Toronto has plenty of spots for A-listers like you.
Experience Toronto
Hundreds of films and televisions programs have been shot in Toronto and the city has served as a stand-in for Chicago, Boston and Manhattan. Directors and stars from around the globe love this metropolitan destination and many of them visit every September for the Toronto International Film Festival (TIFF). Turn up in the right place and you could end up rubbing shoulders with the likes of Prince Harry, Vin Diesel or Kobe Bryant.
Toronto's Downtown Core
Become a member to get into the Downtown Core's trendy SoHo House and experience the secret society of the creative industry's finest. Buca on King and Portland is a popular Italian restaurant known for its foccacia and mouth-watering spiedini. The Core is also home to the Ritz Carlton hotel. Don't miss the saltwater swimming pool that overlooks the CN Tower, or pamper yourself at the hotel's award winning spa.
Yorkville
Yorkville is the perfect blend of historic charm and modern extravagance and until recently, was home to the TIFF. Affluent visitors still love the area, as it offers unmatched luxury shopping and fine dining. Browse the high-end boutiques on Bloor, such as the Ferre Sposa bridal boutique and Cartier jewelry store, as well as the luxury department store Holt Renfrew.
This upscale neighborhood is home to French chef Daniel Boulud's Four Seasons Hotel's d|bar where celebrities like Bruce Springsteen have been spotted. If you prefer a more glamorous experience, try the Parisian style bistro La Societe and order the duck confit with a glass of bubbly. There are countless high-end hotels in the area, including the Windsor Arms. With its own screening room, it's popular with British stars who prefer a little anonymity.
The TIFF Hub
During festival season, O&B Canteen and Luma are packed with elite guests from all over the world looking for great food. If you prefer a more relaxed vibe, head over to The Chase, a glitzy surf-and-turf room on Temperance Street that serves up first-rate dining and terrific views from the fifth floor terrace.
There's no better time than now to book a private aircraft charter to Canada's most exciting city. Nothing can top arriving in Toronto via one of our private jets. To plan your perfect Toronto getaway, contact Cirrus Aviation today at (702)-472-9714 for a Las Vegas aircraft charter.