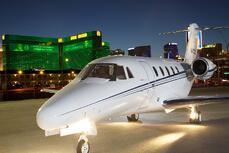 Many savvy travelers today are aware of the great upsides of booking deadhead charter flights (also known as empty leg flights): Steeply discounted flights - up to 60 or 70 percent - no connection hassles, and not having to deal with congested airport terminals.
But the truly wise flyer understands that with the wheat comes some chaff. There are a few disadvantages to deadhead charter flights, those otherwise-empty return legs of a two-way trip that carriers sell to recoup some of their cost.
The pluses of deadhead charters still outweigh the negatives, as long as passengers do their research and understand that last-minute changes in schedule come with the territory.
Deadhead flights subject you to the whims of the client who originally booked the jet. If that client is late, changes flight times or simply decides not to fly, your flight will be canceled - a big problem if you are expected at a major business meeting in Atlanta in a few hours.
Doing your homework can save the day. Before booking any deadhead charter flights, ask the carrier what happens if there are changes to the original client's schedule.
Many carriers will provide a back-up flight should something happen. It's up to you to find out what the cost of that flight will be and whether the plane will be at your airport of choice, when you want it.
If your charter carrier has a Plan B that meets your expectations, you're golden. Working with the right carrier to make certain everything goes seamlessly is key.
Still, it's best to reserve deadhead charter flights for leisure trips. That way business and event schedules won't be jeopardized.
Learn the ropes of booking deadhead charter flights by downloading the informative white paper from Cirrus Aviation called "How to Take Advantage of Empty Legs".
Call (702)-472-9714 to book your private jet today!