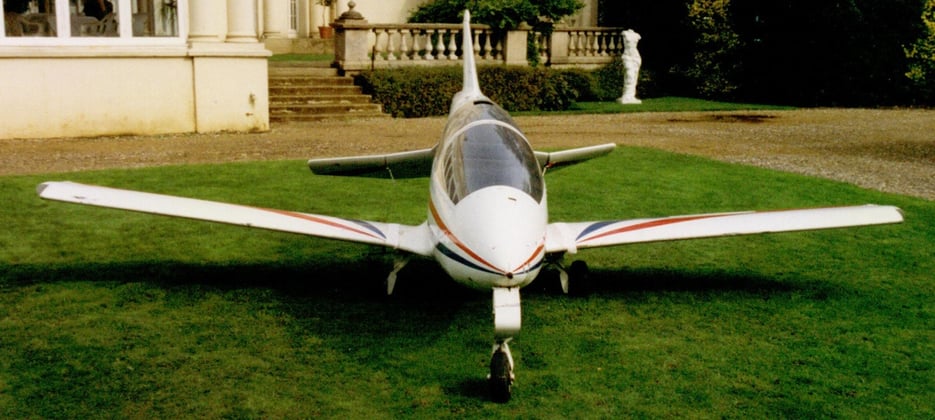 While Ian Fleming's famed secret agent never strapped himself into a pilot's seat, it wasn't uncommon to see the cinematic version of James Bond take flight. The editors of Air & Space magazine sat down for a 52-hour Bond binge and counted more than 160 air and spacecraft. Here's a few that caught our attention as well.
Lockheed JetStar VC-140B - Goldfinger (1964)
This was the very first dedicated business jet, a progenitor of an elite category that has since come to symbolize luxury, power and success. Presidents Lyndon B. Johnson, Jimmy Carter and Ronald Reagan all flew in style aboard a VC-140B, along with plenty of business executives looking for swift, stylish aircraft charters. And of course there was James Bond. This was the first plane the thematic spymaster ever flew, even if it was straight into the ocean. (Don't worry. He escaped with co-pilot Pussy Galore).
Bede BD-5J, aka the Acrostar Jet - Octopussy (1983)
Featured prominently in a pre-title sequence, Bond uses an Acrostar Jet to maneuver his way out of the sights of a heat-seeking missile. In real life, this specialized aircraft continues to hold the title of world's smallest and lightest private jet, clocking in at just 359 lbs. Designed for a party-of-one, this jet can lean on the cramped side.
Cessna 172 Skyhawk - GoldenEye (1995)
Where Bond as a pilot in Goldfinger fumbled at the controls, in GoldenEye he was a downright flight master. He pilots two separate aircraft in this film, a Pilatus PC-6 and a Cessna 172 Skyhawk. The latter is a favorite of airplane fanatics with classic lines and a reputation as the safest general aviation aircraft available on market. The Skyhawk is a four-seat, single-engine aircraft that Bond and compatriot Natalya use to fly into Cuba.
If you're looking to make your own escape south of the border, whether to the recently opened island of Cuba or to a Mexican hideaway, catch a Las Vegas charter flight with Cirrus Aviation. Our aircraft charter Las Vegas fleet includes two Learjet 60s with ample room and a smooth transcontinental range of 2,800 miles, so you can enjoy a premier executive-level flying experience without the hassle of long lines, security checkpoints and overcrowded business flights.
Book your flight with Cirrus Aviation today at 702-472-9714.