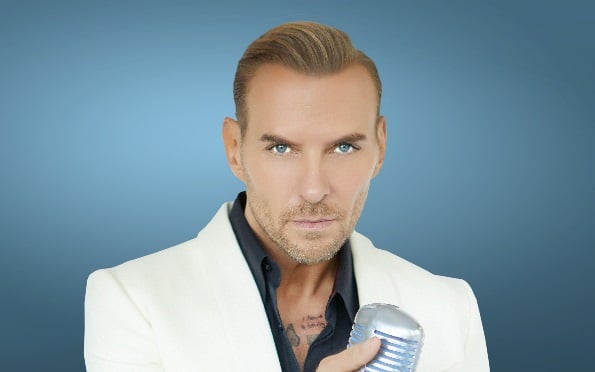 Photo: Matt Goss/MGM Resorts International
With the chaos of the holidays behind us, it's time to plan some new adventures in Las Vegas. The weather may have taken a chilly turn, but there's still plenty of fun around town to enjoy.
Travel Back to the Era of the Rat Pack
Matt Goss is the best of all worlds — a stylish retro crooner with a contemporary edge. Inspired by the vintage charm of Frank Sinatra, the British singer recently debuted his new residency inside 1OAK nightclub at the Mirage. With a vibrant big band and sexy backing dancers, Goss performs on select evenings before settling into a regular schedule of Tuesday, Friday, Saturday and Sunday evenings at 7:30 p.m. starting on February 9.
A Taste of France
Andiron turns the tables on its regular menu. The Downtown Summerlin steakhouse and seafood spot is presenting a French dinner for one night only. Tarte Flambe and Confit Duck Leg Casserole are among the French-inspired dishes that will be part of a six-course menu with an optional beverage pairing. Dinner is served at 6:30 p.m. on January 30 with reservations required.
A New Rock Residency Gets Underway
The latest rock n' roll residency is just off the Strip with Incubus at the Hard Rock Hotel & Casino. The chart-topping band, known for hit singles like "Drive" and "Wish You Were Here," will play four dates at The Joint over two weekends: Feb. 2-3 and March 30-31.
Learn about Desserts
The Wynn resort is making learning fun on the Strip with a series of masterclasses. For something tasty, check out "Sweet Smackdown - Battle of the Pastry Chefs" at 2 p.m. on February 9. Maria Mac of Costa di Mare and Andy Jin of SW Steakhouse and Lakeside will team up to show guests how the pros make delicious desserts in a fine dining setting. Of course, samples will be offered. The class takes place at Lakeside and is $125 per person.
Swim at Night
Daredevils often welcome the new year by facing their fear of the cold and taking an icy dip in the water for a good cause. Well, a new version is coming to town. The Las Vegas Neon Polar Plunge will support the Special Olympics with a chilly dive in front of Caesars Palace on February 24. And here's the twist — it takes place at night underneath the neon glow of the Strip. Participants are asked to raise $125 for the cause. There will also be a celebration with costumes, food, entertainment and raffle prizes.
Fly into town with Cirrus Aviation and enjoy everything Las Vegas has to offer during the rest of the winter season. Representatives will book your flight and help arrange reservations to dinners and shows around town. Call 702-472-9714 today.
By Rob Kachelriess