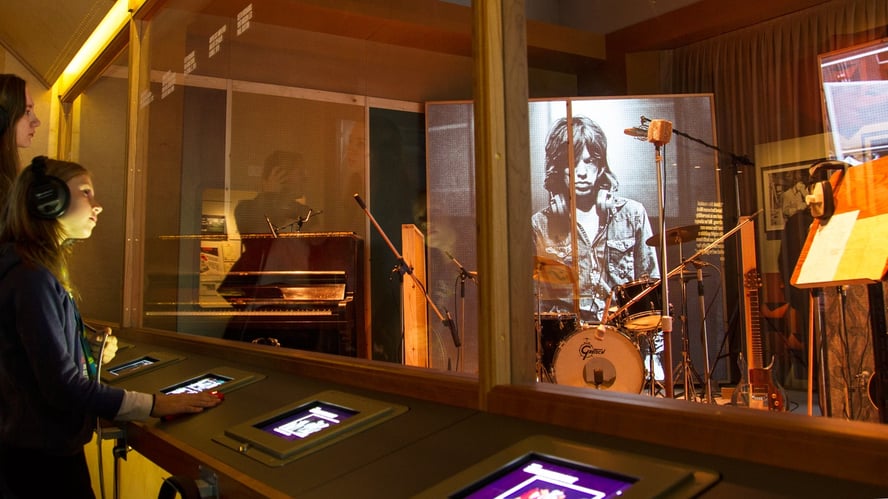 Photo: Rolling Stones Exhibitionism
Rock n' roll fans in Las Vegas finally have a chance to check out a traveling museum dedicated to the Rolling Stones. Known simply as Exhibitionism, the attraction opened over the weekend at the Palazzo after previous runs in London, New York and Chicago.
The Rolling Stones themselves officially authorized Exhibitionism and were actively involved in putting it together. The evolution of the band is documented with rare personal items that date back to the early days, including handwritten diary notes from Keith Richards, a Charlie Watts drum set from 1965 and the band's first recording contract. There's even a recreation of the London flat that was shared by the band members, complete with unmade beds and dirty dishes in the sink.
The Stones' rise and success is further highlighted with a recreation of a recording studio, which includes interactive touchscreen-controlled videos. Interviews with guest musicians discuss the band's collaborations, instruments and use of technology in the studio. The wing of the exhibit also showcases one of the first pressings of an early album as well as handwritten notes and lyrics by Mick Jagger.
A hallway dedicated to the fashion and stage costumes of the band highlights the trends of the 60s, including a devil's outfit used to promote the "Sympathy for the Devil" single in 1968. It leads to a gallery of guitars that have been used by the band over the years. A few are actually missing, since they're currently being used by the Stones while on tour in Europe. The empty display cases are actually a clever touch that highlights the band's ongoing success.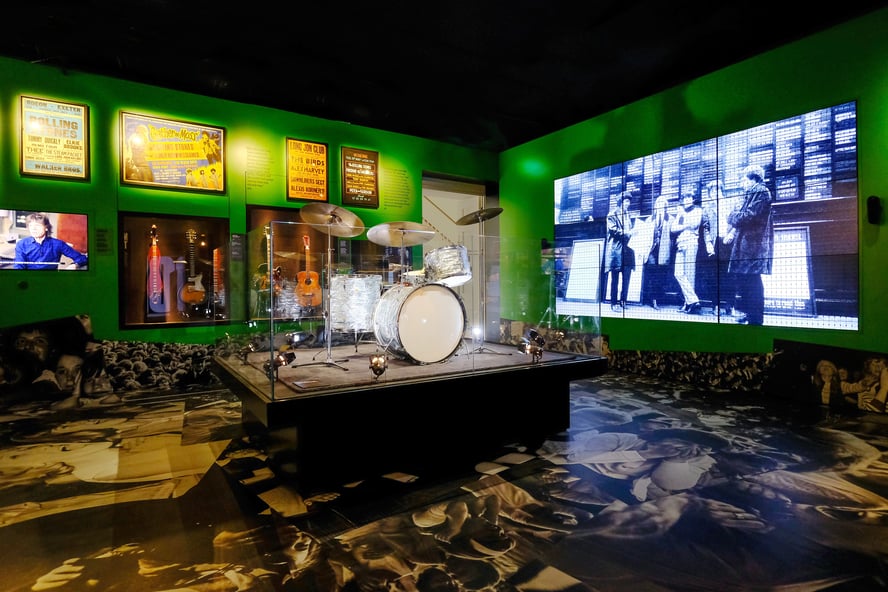 Photo: Rolling Stones Exhibitionism
Of course, the history of the Rolling Stones mirrors the history of pop music. A prime example is a display dedicated to the band's album artwork - an element that was often more dramatic and detailed when records were the format of choice. Inspiration for album covers could come from anywhere, including a vintage magazine advertisement for a line of wigs that influenced Some Girls in 1978.
The Stones are known for being one of the top touring acts in history, and the exhibit features small-scale replicas of their most famous stages. Most notably, Steel Wheels in 1989 and Bridges to Babylon in 1997. The journey through the history of the Rolling Stones wraps up with guests walking in the shoes of the band - through a backstage area before "taking the stage" in front of a giant video screen showing a performance from the Stones. The visuals come to life with a pair of 3D glasses and it's the next best thing to actually being on stage.
Exhibitionism is open seven days a week and runs through the end of January 2018. That's plenty of time to book a Las Vegas flight with Cirrus Aviation to check out this unique attraction that any rock fan will love. Call 702-472-9714 today.
By Rob Kachelriess