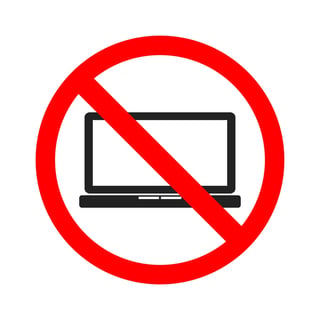 You're not the only traveler who has wondered what it is about smartphones that so transfixes people that they can be nearly oblivious to their surroundings and fellow passengers for an entire flight. What are they up to?
U.S. intelligence officials continue to mull the same question but lately, it's not smartphones that trouble them. It's all those larger electronic devices that they say could harbor the tiniest explosive device and wreak catastrophic harm once a flight has reached its top cruising altitude.
From this vantage point, the Department of Homeland Security recently mandated that all passengers on direct flights to the United States from 10 international airports in eight countries stow any electronic device larger than a smartphone in their checked baggage, where screening measures are stricter than for carry-on items.
The announcement serves as a stark reminder that the threat of terrorism, especially from al-Qaida operatives, still looms large. It serves as a reminder that passengers must remain vigilant about their safety while also being patient about inconveniences. And it also serves as a reminder that air travelers can avoid the fear, worry and stress that has tainted commercial travel since September 11 by booking a Las Vegas private jet.
Electronics ban targets commercial aircraft
The electronics ban, which has already taken effect and is indefinite in nature, covers laptops, tablets, e-readers, cameras, electronic gaming devices, portable DVD players, travel printers and scanners. It represents the most far-reaching restriction imposed by U.S. security officials since the 9/11 terror attacks of more than 15 years ago.
Intelligence officials did not discuss any specific plot against the United States but made it clear that commercial travel remains a favored target of terrorist groups and therefore, the focus of efforts to protect passengers' safety.
"Just evaluating all the intelligence, we believe that the threat is still prominent against aircraft and airports," a top U.S. security official told CNN. This information "indicates terrorist groups continue to target commercial aviation" by "smuggling explosive devices in various consumer items."
Ban targets Muslim-majority countries
The ban affects eight countries:
Egypt
Jordan
Kuwait
Morocco
Qatar
Saudi Arabia
Turkey
United Arab Emirates
The 10 affected airports are:
Abu Dhabi Airport
Ataturk Airport
Cairo Airport
Doha Airport
Dubai Airport
King Abdulaziz Airport
King Khalid International Airport
Kuwait International Airport
Mohammed V International Airport
Queen Alia Airport
The nine airlines affected by the ban are:
Egypt Air
Emirates
Etihad Airways
Kuwait Airways
Qatar Airways
Royal Air Maroc
Royal Jordanian
Saudi Arabian Airlines
Turkish Airlines
Fly by Las Vegas private jet for untold peace of mind
The electronics ban will affect about 50 flights headed for the United States per day. It is not expected to be extended to include domestic airlines, nor is it expected that requiring passengers to store smartphones with their checked luggage will be officials' next move. They say phones present less of a safety threat because they are smaller and therefore cannot conceal as much explosive material as larger electronic devices.
Just using those two words together in a sentence – "explosive material" – can be enough to strike fear into the hearts of already jittery commercial travelers. With so much turmoil in the world today, the peace-of-mind that comes with flying by private jet is especially welcome. It's hard to find a better choice than Cirrus Aviation, recognized for safety by the Federal Aviation Administration and recently awarded a Platinum rating for safety by ARGUS International, a highly respected independent assessment service.
Enjoy the reassurance of flying to your next destination via private aircraft by booking with Cirrus Aviation today. Just call (702) 472-9714.