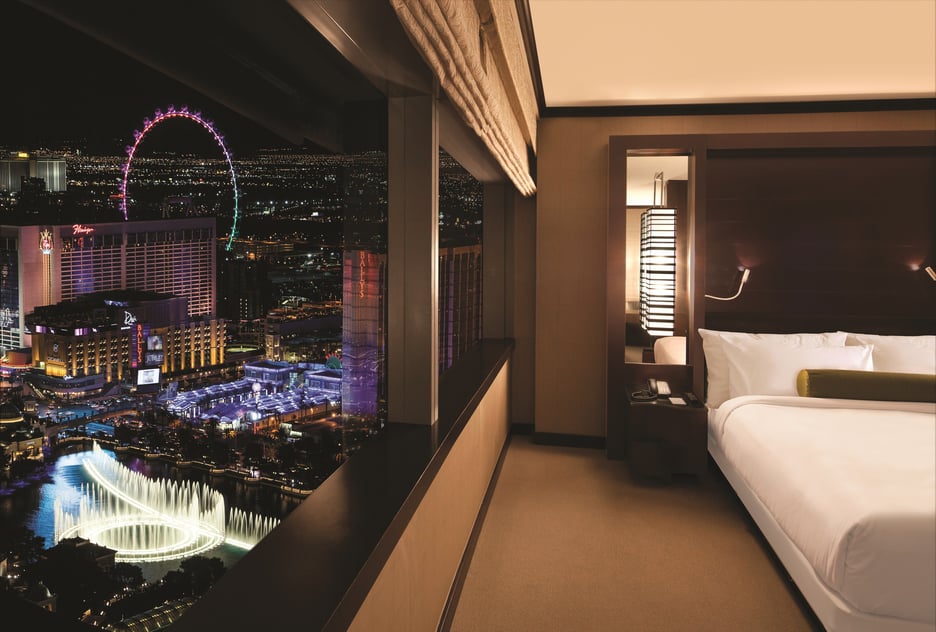 Photo: Vdara Hotel & Spa
Las Vegas is such an exciting and engaging city, it's hard to resist wanting to own a piece of it. Most of the action is on the Strip, where luxury, style and convenience are found in towering high-rise condos.
Mandarin Oriental
Stylish and contemporary, this Asian-inspired resort at CityCenter has 392 hotel rooms and suites — but 225 additional units are exclusively reserved for residential use. Homeowners get to take advantage of the pool, fitness center and other perks but enjoy the privacy of their own dedicated elevators and valet parking. Truly the best of both worlds. Pay a visit to the Sky Lobby on the 23rd floor to experience the famous Tea Lounge, highly-acclaimed Mandarin Bar and upscale French fusion cuisine at Twist by Pierre Gagnaire.
Vdara
It's not actively advertised, but every unit at Vdara is up-for-grabs to buyers. Until they're sold out, available residences are rented out to hotel guests. The Vdara is sleek, contemporary and among the most quiet resorts on the Strip, making it an ideal alternative for those looking to escape the chaos of busy casinos. Vice Versa is a comfortable lounge for cocktails and small bites but otherwise, there isn't a major restaurant on property. However, a long corridor connects to the neighboring Bellagio with world-class restaurants, bars and attractions just minutes away.
Veer Towers
The only property in CityCenter that's completely residential, the Veer Towers complex features two eye-catching buildings that appear to slant at slight angles. But you would never know it from the stylish and modern homes inside. The units make an impression with open floor plans, elegant columns and floor-to-ceiling windows for soaking in the magnificent views. The buildings each have their own amenities, like fitness centers and jaw-dropping rooftop pool decks, avoiding the need to walk back and forth between the two. Veer Towers specializes in convenience with a concierge service, business center and dedicated valet parking. The action and excitement found in nearby resorts like the Aria, Cosmopolitan and Bellagio are just a few steps away.
Need the inside scoop on additional high-rise condos on the Strip? Fly to Las Vegas with Cirrus Aviation and arrange a tour today. Just call 702-472-9714.
By Rob Kachelriess