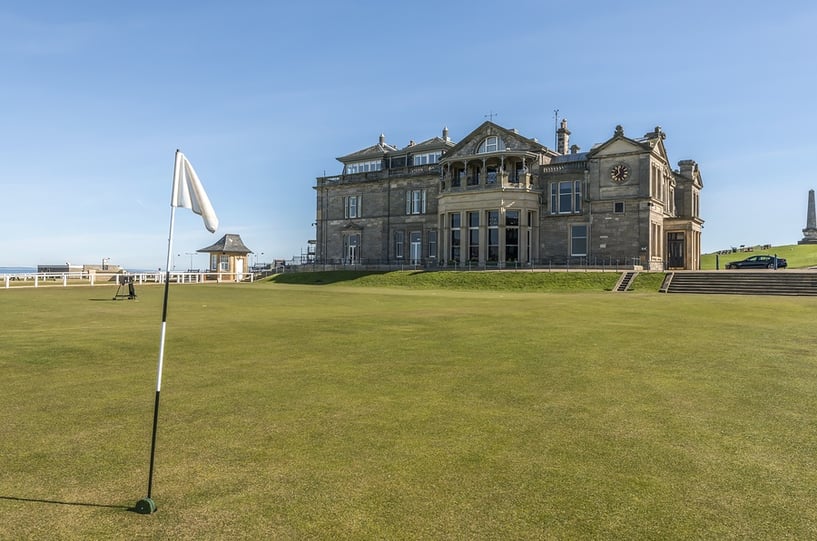 Even the weekend golfer is the serious golfer - and serious golfers love nothing more than debating two questions.
What is the toughest shot in golf?
What are the best international golf courses?
The answer to the first question is obvious: the last shot you missed. Answering the second question can be as tricky as making a long bunker shot. But most experienced golfers would agree that these five international courses teem with the beauty and rigors that make golf such a beguiling sport – relaxing and mentally taxing at the same time. Corral your favorite golfing partners and travel to these five international courses via a Las Vegas jet charter – and continue the debate in grand style.
Golfers tend to possess great powers of concentration, and you'll need these powers to keep from gazing out at the dunes along the Irish Sea, the Mourne Mountains and the Victorian-era Slieve Donard Resort and Spa. Royal County Down is a course that offers unrelenting surprises, like a dizzying blind spot followed by a fairway of stunning beauty.
Jack Nicklaus jumped at the chance – his chance – to "design a Pebble Beach," the world famous course in California. He chose "the best piece of golf property I've ever seen," situated along rock outcroppings and sun-drenched shores in one of the world's most popular tourist spots. He apparently met his own high standards, saying Ocean Course features "the three finest finishing holes in all of golf."
Cabot Links in Cape Breton Island, Nova Scotia
If you're the type of golfer who likes new experiences, Cabot Trail may be perfect for you. Open since 2011, golfers navigate through forests of balsam fir, gazing at the mountains above and surging whales in the waters below. The scenery rivals only the many spectacular shot-making opportunities on the course.
St. Andrews sets the gold standard for golf – just as Cirrus Aviation sets the gold standard for what to expect from a Las Vegas jet charter. The legendary "home of golf" features seven courses, where millions of golfers have hammered and hacked at balls over its glorious 600-year history.
Leopard Creek Country Club in Kruger National Park, South Africa
The legendary Gary Player designed Leopard Creek, which is widely regarded as the best in South Africa. But it's the challenge of keeping your eye on the ball in the company of the park's wildlife that make this club so alluring. Giraffes, leopards, hippopotamuses and crocodiles saunter and slither nearby - and are said to eyeball every mulligan.
Book your Las Vegas jet charter
The luxurious jets in the Cirrus Aviation fleet can easily accommodate your "fleet" of golf clubs – and make international travel a snap any standard. Book your Las Vegas jet charter for one of these top golf destinations today by calling Cirrus Aviation Services at 702-472-9714.