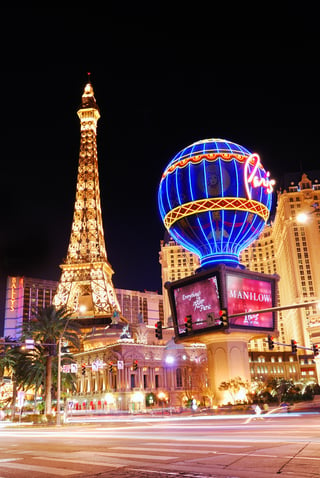 This is the year – the year you're going to surprise your significant other with a gift that is filled with surprise, excitement and glamour.
This is the year you're going to take a Cirrus Aviation Las Vegas jet charter to one of the most exciting cities on the planet.
The timing couldn't be better. Valentine's Day 2017 falls on a Tuesday, which means you can book a Las Vegas jet charter for either a long weekend or a few days in the middle of the week. Just consider how Las Vegas can put the heart into your Valentine's Day, starting with a sampling of some of the city's A-list hotels and attractions, all located on the Strip.
V is for the Venetian, a hotel featuring suites about twice the size of the "average" Las Vegas hotel room (if there is such a thing).
A is for Aria, which offers a memorable start to any visit with its VIP Arrival Experience, complete with an airport transfer, welcome cocktails and a deluxe in-suite breakfast.
L is for Luxor, a 30-story pyramid that stands out at night by shining the world's strongest beam of light into the sky. The casino – at 120,000 square feet – is one of the city's largest.
E is for Wynn Encore, , conveniently hosting two nightclubs (XS and Surrender) near restaurants like Andrea's, Jardin and Sinatra.
N is for Napoleon's, a live piano bar and lounge in the Paris resort that features an exemplary list of cocktails and dessert drinks.
T is for The Steak House, consistently rated one of the best in Las Vegas for more than 30 years. After you sample its mesquite-grilled steaks, prime rib, lobster and crab legs, you'll know why.
I is for IL Mulino, which serves classic Italian cuisine with one of the best views of the Strip – on a private balcony that exudes European elegance.
N is for Nobu, which enjoys the distinction of being the first restaurant in the United States to offer teppanyaki, or Japanese food grilled on a special iron plate. Nobu is the Strip's go-to sushi restaurant and its signature items include mouth-watering black cod with miso, rock shrimp tempura and yellowtail sashimi.
E is for elite, which is what you'll feel the moment you step aboard a Cirrus Aviation private jet, whether you choose the Beechjet 400, Cessna Citation, Challenger 604 or Lear 60.
Book a Las Vegas jet charter
You'll enjoy unparalleled luxury and service while flying with Cirrus Aviation - recently awarded the designation of "Gold-Rated Charter Operator" by Argus, the industry's most respected, recognized and sought-after symbol of safety and excellence among commercial aircraft operators around the world. Cirrus Aviation will help deliver excitement, glamour and reliability into any Las Vegas jet charter, especially on Valentine's Day. Book a flight today by calling (702) 472-9714.