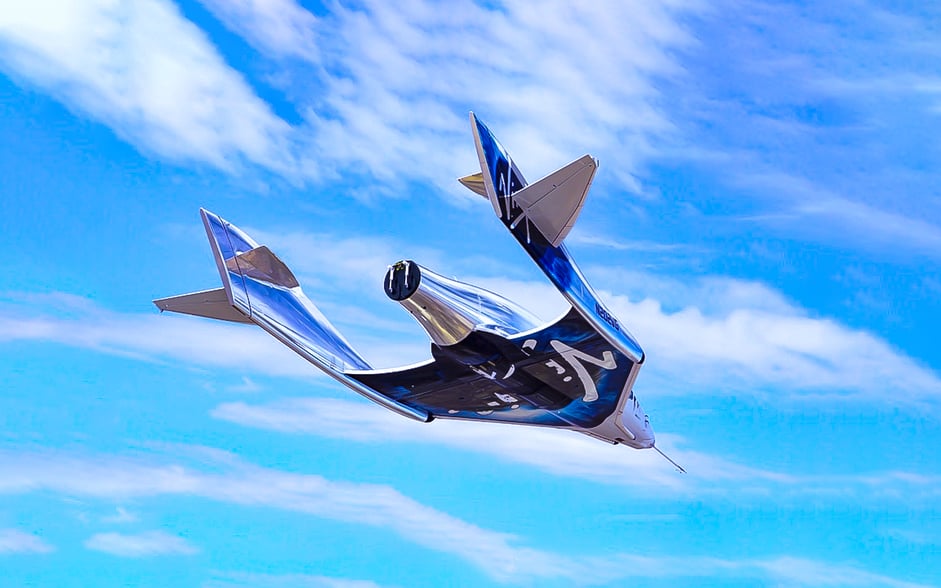 Photo: Virgin Galactic
The Cirrus Aviation fleet includes heavy jets like the Challenger 604 to take travelers to all corners of the globe. But what if the globe isn't enough? An emerging wave of space tourism is promising to launch passengers to the edge of Earth's orbit — and possibly beyond. These "private jets of the future" are shifting the space race from a military mission to private enterprise. As the nation celebrates the 50-year anniversary of Apollo 11's historic flight to the moon this summer, we can only imagine what the next 50 years have in store. Here are the businesses and entrepreneurs leading the way.
Space tourism could arrive sooner than you think. Founder Richard Branson says after a few more test flights this fall, Virgin Galactic will be ready to charter guests into space. More than 600 tickets, beginning at $200,000 each, have already been sold for six-passenger flights. The company's signature spacecraft is the SpaceShipTwo, which is launched from underneath the White Knight Two carrier airplane before landing on a runway like a space shuttle. Two test flights this year have shown the aircraft can reach beyond what the U.S. Air Force defines as the border into space. When Virgin Galactic is ready to take public passengers, 90-minute flights will depart from the company's SpaceAmerica headquarters in New Mexico, offering an opportunity to experience zero-gravity and views of the Earth from space. In the clearest indication that space tourism can not only be possible but profitable, Virgin Galactic is planning to go public this year.
Founded by Amazon CEO Jeff Bezos, Blue Origin is developing reusable rockets while envisioning a future in which millions of people live and work in space. The company's New Shepard rocket (named after Alan Shepard, the first American in space) is capable of vertical soft landings. Just this past May, Blue Origin unveiled Blue Moon, a lunar lander that will be carried on the New Glenn rocket (named after astronaut John Glenn). The company is working with NASA on payload projects, but it also has an eye on space tourism. A crew capsule at the top of the New Shepard is designed to carry six paying passengers on an 11-minute flight to the edge of space with about three minutes of weightlessness. The capsule will then return to Earth via parachute. Blue Origin still has to test human flights, but Bezos wants to bring public passengers into space as soon as possible. The company is based in Washington state with a test site in West Texas and a launch facility under construction in Cape Canaveral, Florida.
Elon Musk's SpaceX is the largest and most ambitious of the private space travel companies. The venture is aiming to colonize Mars and to make that possible, space travel needs to be efficient, taking full advantage of reusable rockets and parts to lower costs. The SpaceX Falcon 9 rocket can famously launch and return its large first-stage component vertically, and one of its Dragon capsules was recently used for a record third time to deliver cargo to the International Space Station. SpaceX has a big contract with NASA and just conducted a successful test of its Crew Dragon capsule, setting the stage to take astronauts in space. Musk sees Crew Dragon, which can hold seven people, as an opportunity for space tourism as well, but is already planning a 100-person spacecraft called Starship. (A smaller prototype called the Starhopper is currently in the early testing phase.) Musk even believes paid trips that loop around the moon could happen as early as 2023.

For now, air travel to the public remains firmly in the Earth's atmosphere. Cirrus Aviation will take you to Hawaii, Europe or your choice of thousands of global destinations on board a world-class private jet. Just call 702-472-9714. And if you want to learn more about the space industry, a private jet charter can take you to Florida to tour Cape Canaveral's historic Kennedy Space Center — and perhaps get an up-close look at the launch pad that will lift you into space one day.