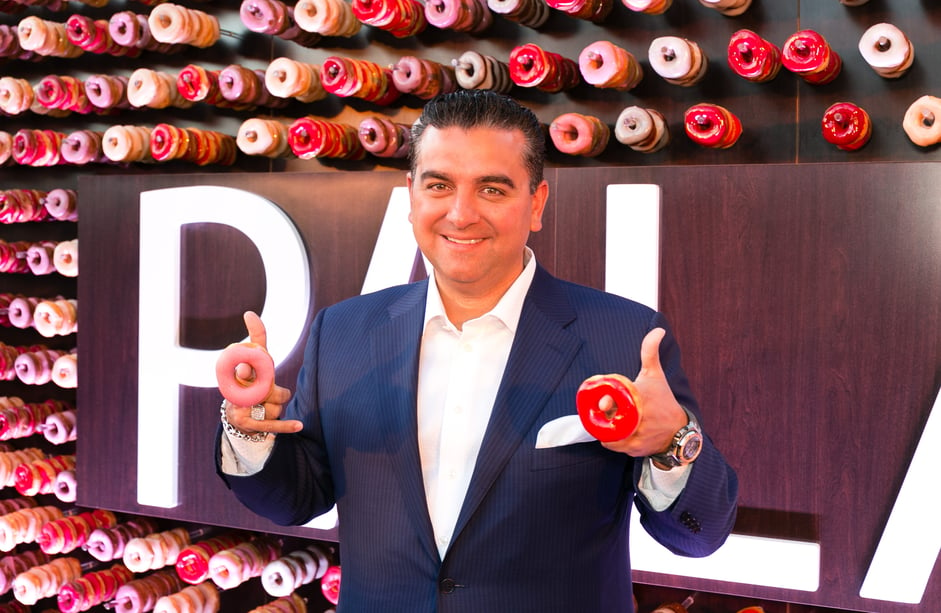 Photo: The Venetian Las Vegas
The man known as the "Cake Boss," Buddy Valastro continues to be a culinary favorite in Las Vegas, especially for those who enjoy the sweet stuff. His Carlo's Bakery inside the Grand Canal Shoppes at the Venetian is famous for its long lines, drawing fans who can't get enough of the celebrity chef's famous cookies, cannolis and lobster tails.
The bakery sits across the hallway from Buddy V's Ristorante, a casual dining spot by Valastro with gorgeous views of the Strip and plenty of Italian-style comfort food. "I don't think I'm a chef. I'm more of a baker, but I'm a really good home cook," says Valastro. "I want people to feel like they're sitting at my table at home, eating food that me and my family enjoy."
The New Jersey native was in town recently for Vegas Uncork'd, an annual multi-day culinary festival that's among the very best in the country. "When I come to Uncork'd and see the most amazing chefs in the world… they've got me taking pictures with them," says Valastro. "I'm in the club! It's kind of a pinch-me moment. It's always very humbling and surreal"
As part of Uncork'd, Valastro was the personal host for "Sweet Escape: An Evening of Buddy, Beignets, Bonbons and Booze" to help celebrate the opening of the new Aquatic Club at the Palazzo pool deck. In addition to bite-size desserts handed out at different stations, the event featured a wall display of more than 3,000 donuts that guests were able to take home and enjoy. "I took a picture with them. I thought, 'Do I put them back?' because I thought they were decorations," Valastro laughs. "But no, you take 'em. You eat 'em"
Valastro enjoys being a part of the amazing culinary lineup found at the sister Venetian and Palazzo resorts, making a point to visit on-property restaurants like SushiSamba and Wolfgang Puck's Cut while in town. He's also excited to welcome Chica, a brand new dining spot based on Latin cuisine from celebrity chef Lorena Garcia.
"We love welcoming new chefs and new things at the Venetian and Palazzo," he says. "It's such a tight knit community where we collaborate and root for each other. It's not a competitive thing where you don't want to see people do well. It's about how we grow and take care of each other."
If you're looking for a fun night in Las Vegas, Cirrus Aviation will set you up with a dinner reservation at Buddy V's Ristorante, Chica or any of the other great restaurants at the Venetian or Palazzo. It's the perfect excuse to fly into town. Call Cirrus Aviation at 702-472-9714 and book your flight, dinner and hotel today!

By Rob Kachelriess