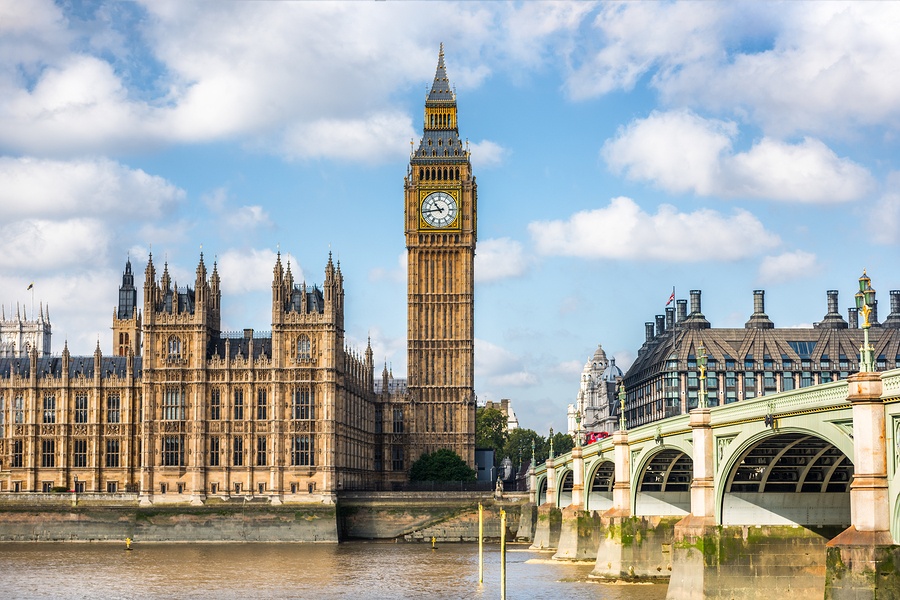 "Travel chaos expected as UK visitor numbers surge for Meghan and Harry's big day," screamed a headline in the Independent. The warning proved true. There was no avoiding the thousands of overseas travelers who descended upon London for the May 19 royal wedding.
Now that the crowds have cleared, you can book a luxury private jet charter, dodge travel headaches at Heathrow Airport and enjoy your own royal experience by staying at a five-star hotel, dining at fine restaurants and enjoying tours in the neighborhood of the couple's home at Kensington Palace. Here are travel options that even the queen would endorse.
Choose a Royal Hotel
Located just one mile from Kensington Palace, the Grosvenor House Suites also happens to be Meghan Markle's favorite hotel, as stated in a 2015 interview, just one year before she met Prince Harry. The hotel overlooks Hyde Park and offers the privacy, comfort and service befitting a Hollywood actress – and a newly minted duchess.
The Goring Hotel was the choice of Kate Middleton and her family on the night before her 2011 wedding to Prince William. Established in 1910, the elegant hotel offers round-the-clock butler service and a Michelin-rated restaurant. For afternoon tea, the Goring has been rated one of London's best.
If you're young at heart, the Ham Yard Hotel should appeal to you. It's located in SoHo, where Harry and Meghan have been spotted several times before and after their engagement. The hip hotel features more than 90 individually designed rooms and suites, a bowling alley, a 190-seat cinema and a rooftop bar, where you can raise a toast to the happy couple.
Eat at Royal Restaurants
For breakfast and brunch, London's Duck and Waffle offers everything from eggs to the namesake dish 24/7. Located on the 40th floor of 110 Bishopsgate, Duck and Waffle offers some of the best views of the queen's enchanted kingdom below.
You can't visit London without enjoying some tea, and Sketch is one of the most chic places to order a cup of Britain's favorite beverage. Waiters in coats and ties offer guests a choice of hundreds of teas from a cultured selection. If you visit in the afternoon, your tea can come with a side of caviar and a champagne chaser.
You may stand the best chance of seeing Harry and Meghan in person at Bocca di Lupo, an Italian restaurant that the former Suits star is known to favor. Dine on house specialties such as spaghetti or grilled quail on bruschetta – and keep your eyes open for a royal surprise. Bocca di Lupo is located a convenient distance from the Ham Yard Hotel.
Plan a Royal Tour
A tour of Kensington Palace will give you a close-up view of royal accommodations. Get the ultimate royal experience as you walk through the famously colorful Kensington gardens, a refuge that the late Princess Diana was known to love most.
Visit the Tower of London and admire the Crown Jewels, including the tiara that Queen Elizabeth loaned to Kate Middleton on her wedding day. An after-hours tour offers a private guide – and a few private details of royal life as well.
Take an art tour through East London. There are many tours offered on virtually every corner. Finish off your tour with a visit to Violet Cakes. The crowds have thinned out, but many visitors are still eager to meet the owner, who created Harry and Meghan's wedding cake.
No trip to celebrate the royal wedding is complete without a visit to the charming and historic town of Windsor, where Harry and Meghan tied the knot. Take in the stunning gothic architecture of St. George's Chapel, where the ceremony took place, and enjoy the miles of trees and grass that surround "The Long Walk" leading to Windsor Castle. Wander town streets and reimagine the large crowds that greeted the Duke and Duchess of Sussex during their famous horse-and-carriage ride.
Britain is still aglow from the royal wedding, and you can share the excitement. Start your royal experience the right way by arriving in a luxury private jet charter. Contact Cirrus Aviation at 702-472-9714 to book your flight to London today!