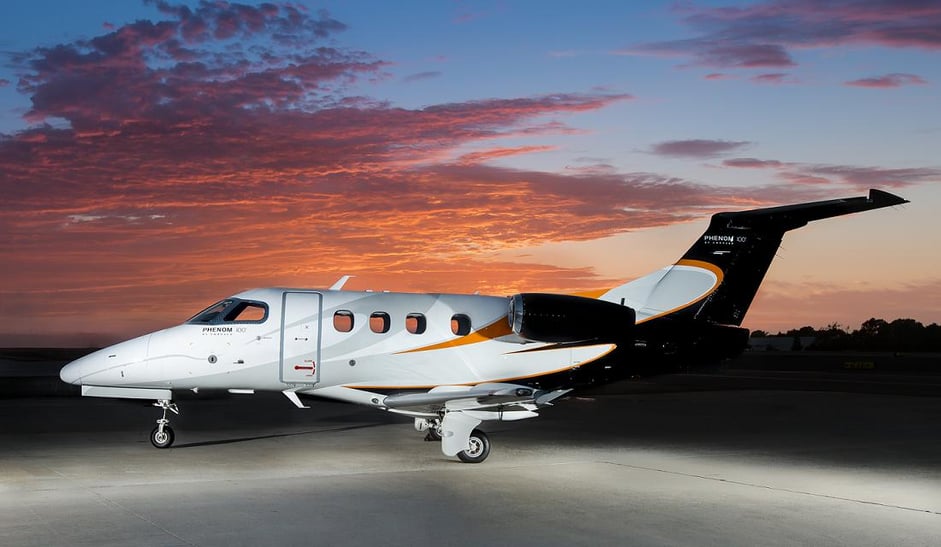 The thought may have flickered across your mind as your Las Vegas private jet charter began to ascend while looking down at the international airport on the horizon below. Cars, limos and buses were backed up, bumper to bumper, as people jockeyed for space at the curb, flinging suitcases and computer bags at the check-in counter in a manic survival of the fittest.
Good riddance to big airports, you think. Flying in and out of regional airports on a private jet charter in Las Vegas is the only way to travel.
You now have even more opportunities to turn that thought over in your mind now that a new small jet that can fly into even smaller regional airports has arrived at Cirrus Aviation.
Cirrus Aviation Services unveils the Phenom 100 – with a phenomenal ticket price
Cirrus Aviation has acquired a Phenom 100 – a sleek, luxurious and intrepid jet that seats four passengers. While an exterior length of nearly 42 feet makes the Phenom a highly maneuverable jet, another feature is likely to leave travelers equally breathless: many flights will be offered for only $3,500.
So many people have asked for confirmation of this low price that Cirrus Aviation President Greg Woods has taken to assuring people that yes, the comma is in the right place and yes, there are enough zeros at the end of the number.
"It really is a phenomenal price, which we hope will make flying with us more affordable to a wider range of people," Woods said. "And for people who have flown with us for years and often fly alone or with one or two people, the Phenom 100 is a great choice."
The Phenom packs speed with agility
The combination of the Phenom 100's compact size and engine power will enable pilots to fly into even more municipal and regional airports than they do with other Cirrus Aviation jets – and specifically airports that usually see only pistons and turboprops.
The engines on the nimble Phenom 100 combine to deliver 3,390 lbf of thrust - nearly 400 lbf more than similar jets of its size. The engines are conducive to short take-offs and landings and produce a climb rate of more than 3,000 feet per minute, meaning the Phenom can reach its usual cruising altitude of 41,000 feet quickly and comfortably. The only downside to all this speed: you'll have to be quicker to look out the window and observe the manic scene at the major airports below.
The Phenom boasts a roomy interior
Standing 14.44 tall with a wingspan of just more than 40 feet, the mighty Phenom also features a spacious interior:
A cabin length of 10.99 feet
A cabin width of 5.09 feet
A cabin height of 4.92 feet
Room for 70 cubic feet of luggage
Book your Las Vegas private jet charter with the Phenom 100
The Phenom 100 joins an elite Las Vegas private jet charter fleet that also includes the Beechjet 400A, Cessna Citation III, Learjet 45XR, Learjet 60 and Challenger 604. Call Cirrus Aviation Services at 702-472-9714 to book a private aircraft that best fits your travel plans today.