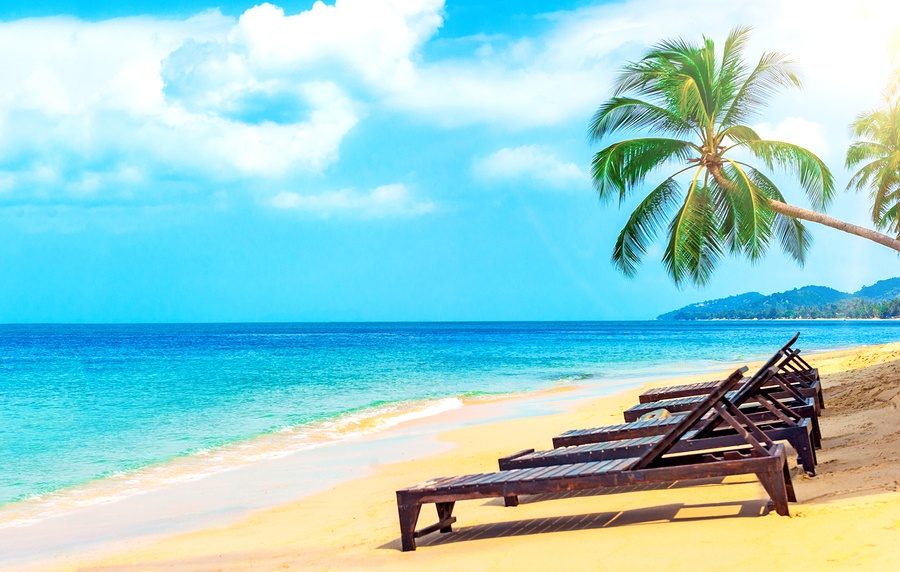 The Caribbean continues to rebuild after the dual assaults of Hurricanes Irma and Maria, yet many resort destinations in the region are currently welcoming visitors. Progress is taking place every day, but if you plan to travel to the Caribbean, contact a specific property first to get the most updated information possible. Here's a quick overview of some of the current conditions to help put together a preliminary itinerary before flying a private jet from Vegas.
Anguilla
Along with the divided island of Saint-Martin and Sint Maartin, Anguilla was one of the first islands to absorb the ferocity of Hurricane Irma. Major hotels plan to start reopening in the first quarter of 2018, but with many roads and beaches cleared, smaller restaurants and businesses are springing back to life.
Antigua and Barbuda
These sister islands suffered vastly different fates from Hurricane Irma. Antigua incurred minor damage and is now fully open for business while Barbuda was decimated with nearly 70 percent of the structures facing reconstruction.
The Bahamas
It's business as usual amid the primary tourist hotspots of Grand Bahama, Nassau, Paradise Island and most of the Out Islands. It's the tinier enclaves, such as the Acklins and Ragged Islands, that are struggling to rebound from Hurricane Maria.
British Virgin Islands
Unfortunately, Hurricane Irma destroyed the island chain with the five-star Virgin Gorda sustaining some of the worst damage. Major luxury hotels are facing a long recovery process that could last two years or longer, but smaller properties are committed to returning sooner.
Dominica
The mountainous island was still rebuilding from a 2015 tropical storm when Hurricane Maria made landfall and damaged or destroyed about 90 percent of the buildings. However, flights have resumed and a ferry that runs from Roseau to Martinique, Guadeloupe and St Lucia is providing a crucial restorative link.
Dominican Republic and Haiti
There's a good reason you didn't see or hear much from this region in the news. Initial reports of wind damage in mostly rural areas quickly faded as starker images throughout the Caribbean grabbed headlines. These tourism sites are now enthusiastically welcoming visitors.
Puerto Rico
Grazed by Hurricane Irma, Puerto Rico was devastated a week later by Hurricane Maria, straight from the southeast to the northwest corner. Although several hotels in San Juan have reopened, the island is barely hospitable to residents and tourists alike.
Sint Eustatius
National parks on the small island, which were hardest hit by Irma and Maria, rebounded quickly and businesses followed suit.
Saint-Barthélemy
Saint-Barthélemy is an example of spotty hurricane damage. Some hotels on the island have reopened while others will remain closed until summer 2018 for repairs. This is why checking on individual hotels before making plans is a smart move .
St-Martin and Sint Maarten
Divided between French and Dutch control, the twin-territory island bore the brunt of Hurricane Irma. Along with Puerto Rico, St-Martin and Sint Maarten now represent the very worst of what the hurricane season brought to bear on the Caribbean. While businesses struggle to reopen, Princess Juliana International Airport, a vital regional hub, is offering limited flights to Anguilla, Antigua, Curaçao, Jamaica, Saba, Sint Eustatius, St-Barthelemy, Saint Kitts and Trinidad.
Turks and Caicos
Irma and Maria passed over Turks and Caicos before turning to the U.S. mainland, but not before bringing damage to Grand Turk, Salt Cay and South Caicos. North and Middle Caicos were least affected by the storms, but most resorts are welcoming visitors.
U.S. Virgin Islands
The cruelty of the hurricanes resonated with residents of Saint Croix, who avoided the wrath of Irma but then saw Maria leave the island in the same devastated condition as Saint John and Saint Thomas. Restoring power continues to be a struggle, as does supplying fresh water.
Travel to Unscathed Caribbean Islands
Some Caribbean destinations were barely affected by the hurricanes. They include:
● Aruba
● Barbados
● Bonaire
● Cayman Islands
● Curacao
● Grenada
● Guadeloupe
● Jamaica
● Martinique
● Montserrat
● Saba
● Saint Kitts and Nevis
● Saint Lucia
● Saint Vincent and Grenadines
● Trinidad and Tobago
Book Your Private Jet Vegas To the Caribbean Today
The glorious Caribbean will be back to full strength in the future, but in the meantime, call Cirrus Aviation at 702-472-9714. Representatives can arrange a private jet in Vegas to the right Carribean destination in 2018.