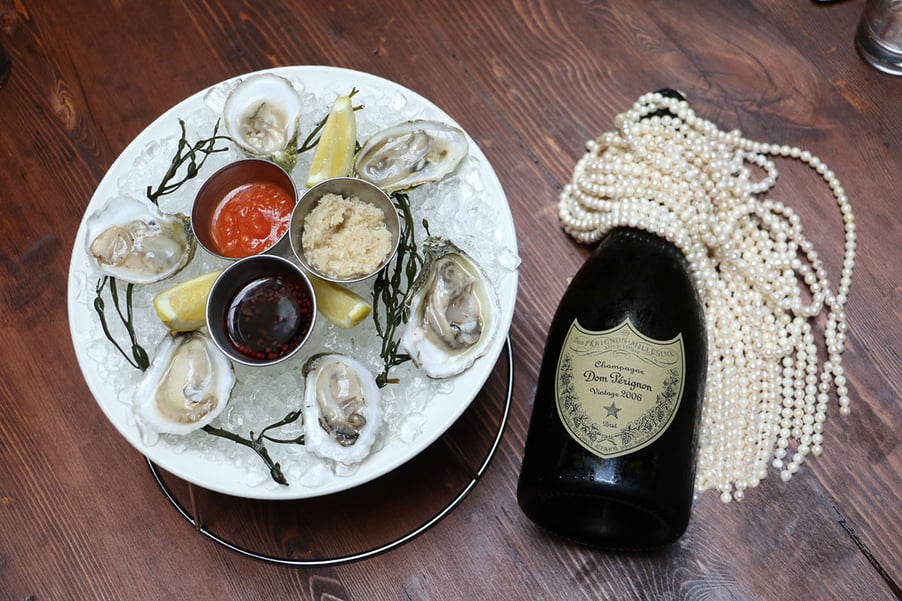 The newest restaurant to open its doors at the Cosmopolitan is ready to welcome Las Vegas high rollers for a hearty meal. Check this out: Beauty & Essex is offering a new $2,000 dinner package.
So what do you get?
The meal comes with a seven-course dinner and a bottle of Dom Perignon. You also get a pearl necklace from the restaurant's pawn shop-inspired retail store that welcomes guests right after they pass through the front door and right before they enter the dining room.
The dinner itself serves four people, which if you think about it, actually makes the price tag a pretty good deal. Beauty & Essex specializes in shared plates showcasing different styles of food.
The night begins with a serving of east and west coast oysters, straight off the restaurant's stellar raw bar menu, along with Tuna Poke Wonton Tacos topped with micro cilantro, shaved radish and Japanese wasabi kewpie mayonnaise.
Other early bites include an avocado toast flavored with lemon and espelette pepper, followed by the Kale & Apple Salad. It comes topped with pancetta, candied pecans, shaved goat cheese and an apple cider vinaigrette. Grilled cheese and smoked bacon are then served with tomato soup dumplings.
The portions get a little more heartier with Fish & Chips Tacos and a Basil Pesto Ravioli served with rock shrimp and a tomato fondue.
Then - if you still have room - comes the main event: a 10 oz. classic thick cut filet with a side of sauteed kale. Just like all of the steaks on the menu, it's made with prime beef and a choice of sauces on the side, including red chimichurri, green peppercorn and hollandaise roasted garlic with bacon.
Wrap things up with a house specialty for dessert. The "les, nyc" Doughnuts come with dark chocolate fudge, berry and caramel sauces for dipping.
This new seven-course meal is just one of the many ways Beauty & Essex is standing out as an exciting new restaurant on the Las Vegas Strip. There are a few different dining rooms inside the venue, with bar and lounge areas adding to the high-energy atmosphere.
Pay a visit the next time you fly into Las Vegas on board a private jet with Cirrus Aviation Services. Allow us to book not only your flight, but also your dinner reservation today. Call (702) 472-9714 anytime, seven days a week.
Photo: Beauty & Essex