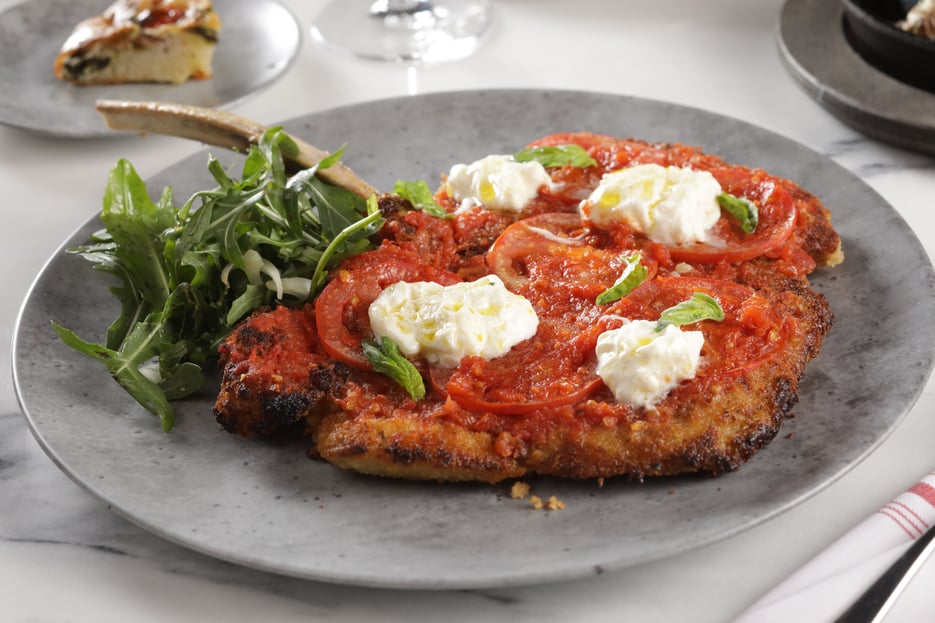 Photo: Masso Osteria
Three new Italian restaurants recently opened their doors in Las Vegas — each with their own distinct identity in a different part of town. The chefs behind the respective dining spots share a few thoughts about how their latest respective projects came together.
Fresh off a successful run at Portofino, Chef Michael LaPlaca is now in charge of another Italian restaurant at the Mirage. Osteria Costa is inspired by the fresh and vibrant food of Italy's coastal communities, where minimalist plates shine with the pure flavor of individual ingredients.
"Most of our cuisine is based on craftsmanship," says LaPlaca. "It pays homage to the time-honored tradition of the Amalfi Coast — Campania, Calabria, Naples and everything in that southwestern region of Italy."
Everything is made in-house, from the mozzarella and pasta to the Neapolitan-style pizzas baked fresh in front of customers. Ultimately, LaPlaca wants customers to return and have a new experience every time.
"It's light, it's fun, it's energetic," he adds. "It's a getaway in the middle of the desert. Once you step into Osteria Costa, you're at the beach at the Amalfi Coast."
Scott Conant was the original driving force behind Scarpetta at The Cosmopolitan of Las Vegas, but the celebrity chef left that Strip venture behind long ago. His latest restaurant, Masso Osteria at the Red Rock Resort, offers the perfect blend of neighborhood dining and fresh contemporary cuisine. The dining room features a sleek contemporary design, a comfortable bar area and a breezy outdoor patio. The kitchen itself makes full use of a wood-burning oven for steaks, seafood, pizzas and vegetables.
"When you walk into the space, you really get that beautiful smoky scent," says Conant. "It's not overwhelming, but it still permeates the food. There is something soulful and honest about it."
The dishes range from squid ink rigatoni to veal chop parmigiana. If you can't decide, the kitchen team will put together a customized multi-course tasting meal for $65 per person.
"We make sure they're tasting a lot of different things," says Conant. "Whether it's a table of two or a table of 15, we'll basically just put things on the table and let them share it family-style."
When people think of Downtown Las Vegas, Fremont Street is the first thing that comes to mind. But if you head a bit south to the Arts District, you'll find an emerging lineup of bars and restaurants to explore, including the brand new Esther's Kitchen.
"We're approaching Italian food in a more modern way than a lot of restaurants in Las Vegas," says Chef James Trees. "We're working with the farmers markets and by doing that, we get better products."
The farm-to-table philosophy is proving to be a hit for the restaurant, which has quickly built a following of loyal fans who enjoy the seasonal freshness of the menu. They also enjoy checking out a climate-controlled room for hand-making bread and pasta that's separate from the kitchen and visible to the dining room.
"That room is 76 degrees and 86 percent humidity all the time," says Trees. "Our kitchen isn't big, so separating it not only allowed us to put it on display, but have that be a sanctuary away from the craziness of the kitchen."
A word of advice — book a reservation in advance. The restaurant tends to go on a wait each night, sometimes up to two hours.
These restaurants are just three examples of why the Las Vegas dining scene is so exciting. Pick one out and plan a visit during your next trip to Las Vegas. Allow Cirrus Aviation to handle the dinner reservations while also booking your flight on a world-class private jet. Just call 702-472-9714 today.
By Rob Kachelriess