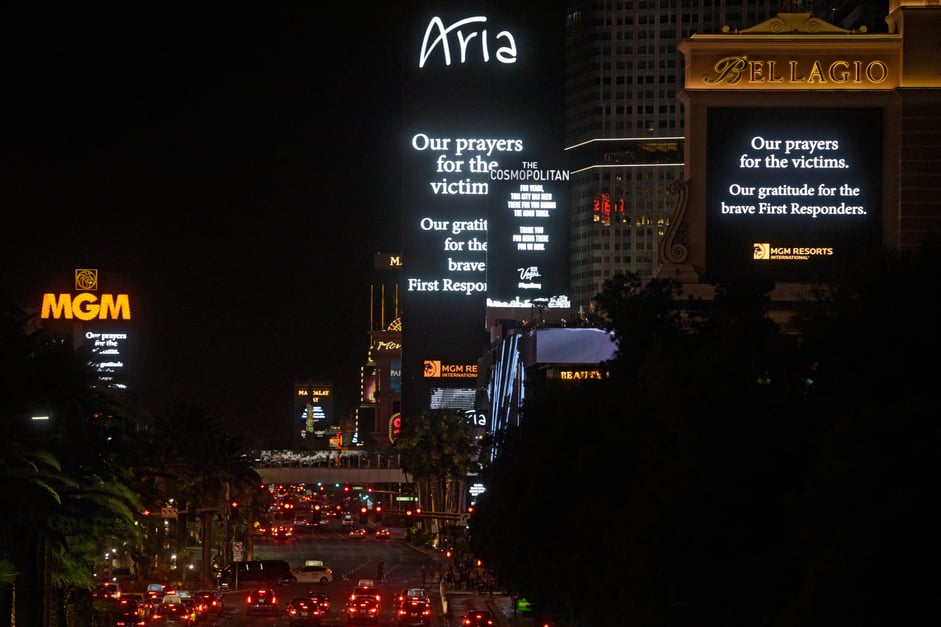 Photo: Sam Morris/Las Vegas News Bureau
Cirrus Aviation Services is shocked and saddened by the terrible tragedy that recently took place on the Strip. As a Las Vegas-based company, our hearts are full of emotion; with grief but also inspiration at how the community has rallied together, showing the world that #VegasStrong is more than a slogan or hashtag. It's a philosophy the city will carry forward forever.
Strength was shown from the moment gunfire first erupted at the Route 91 country music festival the fateful night of October 1. As the attack unfolded, fellow concertgoers not only rushed to find safety, but also protect loved ones as well as strangers. Some even used their own bodies to shield others from the bullets shot from a hotel room at the Mandalay Bay resort across the street. Victims were taken to nearby hospitals by taxi drivers and other Good Samaritans who happened to be driving by as the terror unfolded. Well-trained first responders showed their expertise, bravery and resolve as medical crews tended to the victims, security personnel offered safety and Las Vegas Metro Police tracked down the gunman.
Since then, the Las Vegas community has stepped up and joined together. The Las Vegas Victims Fund has raised more than $9 million dollars of a $15 million goal in less than four days. You can contribute online as well. Top donors include $3 million by MGM Resorts International (who hosted Route 91), $250,000 by the Cosmopolitan, $100,000 by Wayne Newton and $50,000 by the Oakland Raiders. Every dollar helps and no contribution is too small. The fund will directly go to the victims and their families.
Other fundraising efforts have been initiated by Zappos and the National Compassion Fund. Catholic Charities and Three Square food bank have been overwhelmed by food donations but can use financial contributions for distribution purposes.
Blood banks are currently full following an outpouring of support and donations. However, you can return in the future and help keep supplies high. Unfortunately, tragedy can strike at any time and you never know when blood will be needed, including other parts of the country that may need to share our local supply. Contact United Blood Services for more information.
Grass roots efforts have taken shape as well. Chefs from restaurants like Other Mama, District One, Delmonico Steakhouse, Evel Pie, Pancho's Vegan Tacos, Dirt Dog, 800 Degrees Pizza, Tacos & Beer, Burgerism, Makers & Finders and many others have given their time and meals to first responders to show appreciation for their hard work and professionalism. Thank them in turn by visiting their establishments and giving them your patronage.
A personal gesture of your own, large or small, including a simple "thank you" to our first responders, from police officers to nurses and other hospital employees, can often mean more than you will ever know.
We also encourage you to spend money and enjoy the Las Vegas Strip, especially Mandalay Bay - a property that's home to services, employees, and businesses who don't deserve to be connected to such a horrible tragedy. We can't let fear dominate our lives. We must be stronger than ever and not let a deranged gunman dictate how we live. Meanwhile, take comfort in knowing that Las Vegas is one of the safest major metropolitan areas in the world, with security teams and law enforcement doing everything possible to keep us safe.
Cirrus Aviation Services condemns violence in all its forms and stands by Las Vegas during this difficult time. We couldn't be more honored to be a part of this amazing community.
By Rob Kachelriess