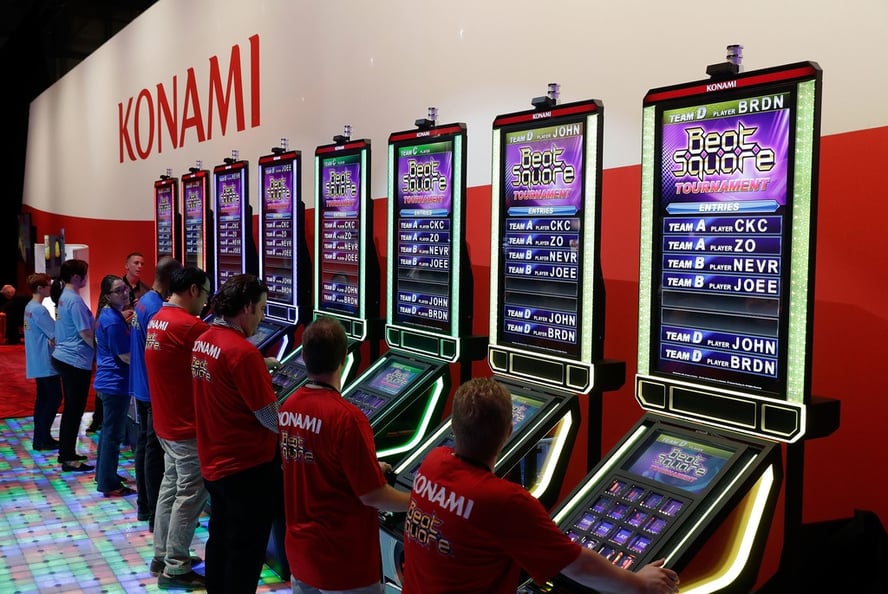 Photo: Global Gaming Expo
Innovation, new technology and emerging trends are reshaping how Las Vegas casinos operate. As seen during the recent Global Gaming Conference at the Sands Expo and Convention Center, a new generation of players is becoming more interested in games that are interactive and based on skill.
Ghostbusters 4D
Players have already seen a few 3D games in casinos, but that technology is taken up a notch with a new totally immersive experience. Produced by IGT, Ghostbusters 4D allows users to take advantage of TRUE 4D - a tech feature that recognizes hand gestures made in front of the screen. That means players can control elements of the game by swiping their fingers in the air. They'll also experience gusts of wind and chair vibrations that when combined with vibrant graphics and surround-sound audio, bring the Ghostbusters characters and creatures to life. The 3D images are seen perfectly when a user sits in the middle of the chair - without any need for glasses. IGT is applying similar enhancements to Sphinx 4D and Wheel of Fortune 4D (which allows users to "spin the wheel" by merely waving a hand near the screen).
Pac-Man Battle Casino
Remember Pac-Man? The 80s arcade hit influenced a generation of gamers who can now use their skills to win money at the casino. Based on a four-player table version of the game, Pac-Man Battle Casino allows users to place a wager and compete with others to win a jackpot. Travel through a maze, gobble up points and avoid being killed off by ghosts that lurk around every corner. Produced in partnership between Gamblit Gaming and Bandai Namco, the winnings are based on luck - via the spin of a wheel - and not the amount wagered. Players must put down a minimum amount to play, which will be determined by the casino.
Bingo Trance
Another game by Gamblit turns an old favorite into a high-speed experience. Bingo Trance is a tabletop game in which each player is given a virtual bingo card. As numbered balls appear in the middle of the screen, players compete to drag each one to their respective cards. Line up an entire row and earn a cash payout. It sounds easy but the game moves fast. Paying attention to every element requires skill and concentration and if you fall behind another player, you'll see how easy it can be to lose out.
Steve Aoki's Neon Dream
This new skill-based game from superstar DJ Steve Aoki is just the thing to keep millennials in the casinos. Players use a joystick to move left and right to fly over a colorful track while collecting points and avoiding barriers. Dance music from Aoki's own label plays in the background, making this game by GameCo a true interactive hit.
Beat Square
Manufactured by Konami, Beat Square is similar to the Dance Dance Revolution video game, except players use their hands instead of their feet to play. Enjoy music from the like of Bruno Mars as segments on the screen light up in sync with the beat. Follow the pattern and keep up with the pace to earn big bucks.
Casinos are becoming more exciting by the day. As the latest edition of G2E shows, there's something for everyone when choosing slot machines and other games. Book a private jet to Las Vegas with Cirrus Aviation and check out the latest casino technology, from immersive interactive experiences to skill-based games. Call 702-472-9714 today.

By Rob Kachelriess