Photo: Heritage Steak/Biondo Photo

Tom Colicchio's Heritage Steak is celebrating five years at the Mirage in Las Vegas. The restaurant isn't only the signature fine dining spot at the resort, but also one of the most unique steakhouses on the Strip. However, its identity has evolved a bit over the past half-decade.
"When we opened, all of our steaks were plated entrees," remembers Executive Chef Matthew Chacho. "So you got a baseball cut New York Strip with all the accompaniments. That was a bit of a struggle, but then we found who we are now."
The restaurant shifted to an a la carte presentation with a greater focus on its magnificent woodfired oven and grill. Its flames are visible in the open kitchen and illuminate about half the dining room when in full operation. The beautiful piece of equipment also includes an upper level for those who prefer steaks more thoroughly cooked.
"If you order a steak medium-well to well done, we put it in the top part to bring it up real slow and not dry it out," says Chacho. "It adds a lot of smoke and flavor to it."
However, most connoisseurs tend to request their steaks medium rare. So which cut goes best with the the unique and distinctive flavors that emerge from the woodfired grill?
"Filet mignon seems to always impress everybody — it's filet mignon," Chacho. "But a filet off that grill, and the way it's cooked and presented, I can't compare it to anything else."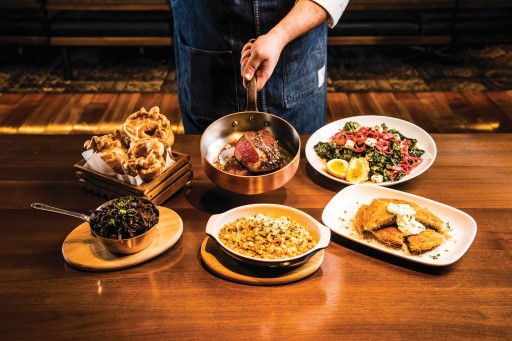 Photo: Heritage Steak/Levi Walker
Yet the best representation of a truly flavorful cut at Heritage Steak could be either the double-cut bone-in ribeye or the bone-in New York Strip. Both are dry-aged from Double R Ranch in the Pacific Northwest. "When you pair Double R Ranch with the woodfired grill, you can't top it at this point," says Chacho. "It's the most incredible thing you can pair together."
Other examples of dedicated sourcing include certified A5 Wagyu direct from Japan and skirt steaks from Snake River Farms in Idaho. Entire air-chilled birds are bought from Mary's Free-Range Organic Chicken and broken down in-house. All of the vegetables are from farmers markets in Southern California.
To mark five years in Las Vegas, Heritage Steak is offering a special anniversary menu that Chacho says includes "dishes that everyone remembered and wanted to see again" from previous incarnations of the restaurant. Highlights include a creamy King Crab fondue and American Wagyu brisket that's wrapped, braised, roasted and cured with a serving of mustard kale and dates. But the most anticipated dish may be an 18-ounce ribeye smothered in wood roasted onions with a balsamic relish. "The first time you taste it, you go 'oh wow,'" says Chacho. "That's one I bring out every once in a while and we all get excited about it."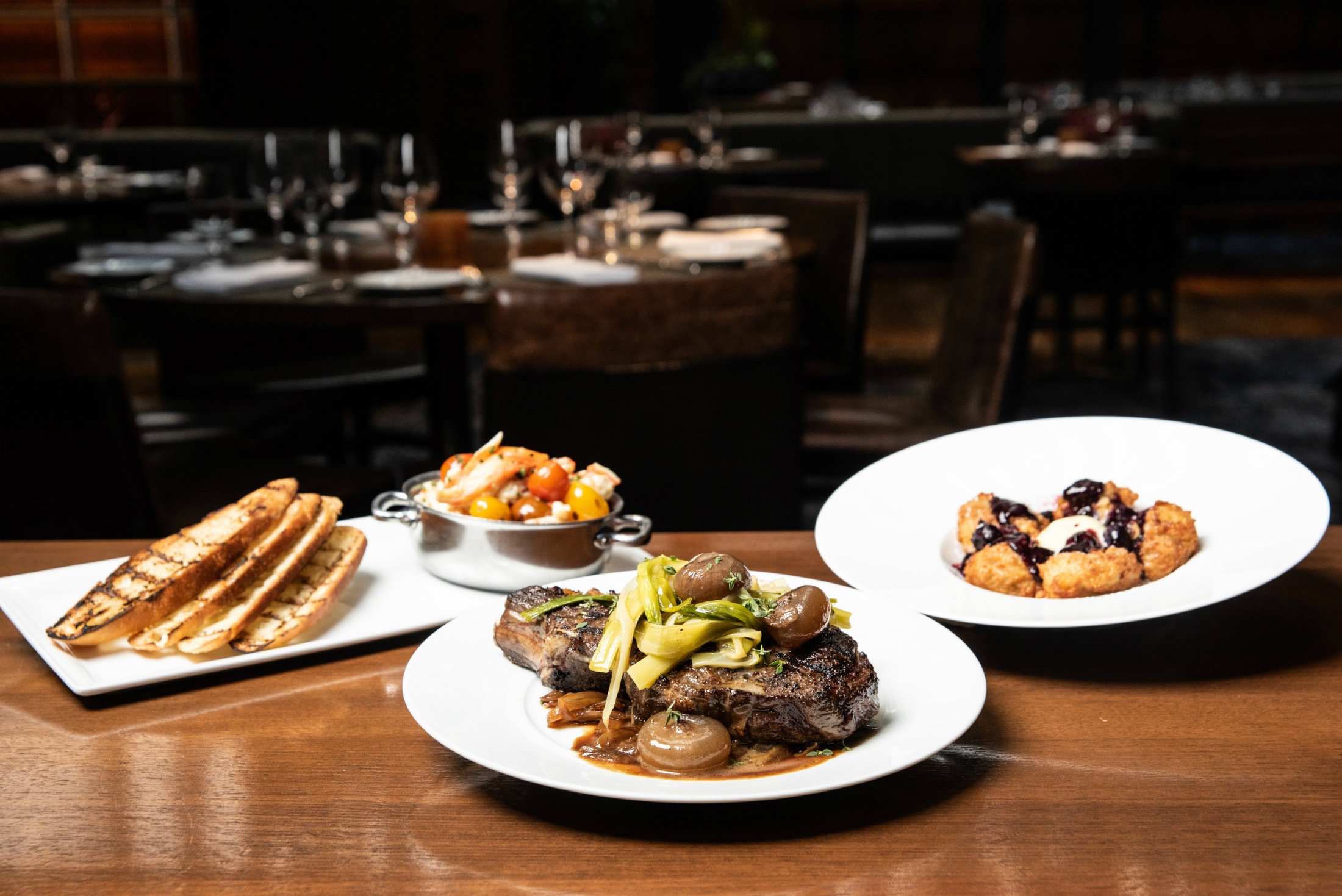 Photo: Heritage Steak/Levi Walker
The 5th Anniversary Celebration menu runs through September 22, but any day is perfect to visit Tom Colicchio's Heritage Steak. See how this incredible restaurant mixes elegance, energy and modern-style during your next visit to the Strip. Cirrus Aviation Services will not only arrange a flight to Las Vegas on board a world-class private jet, but also book dinner reservations as well as overnight accommodations at one of the Mirage's upscale private villas. Call 702-472-9714 and plan your next getaway today.
By Rob Kachelriess