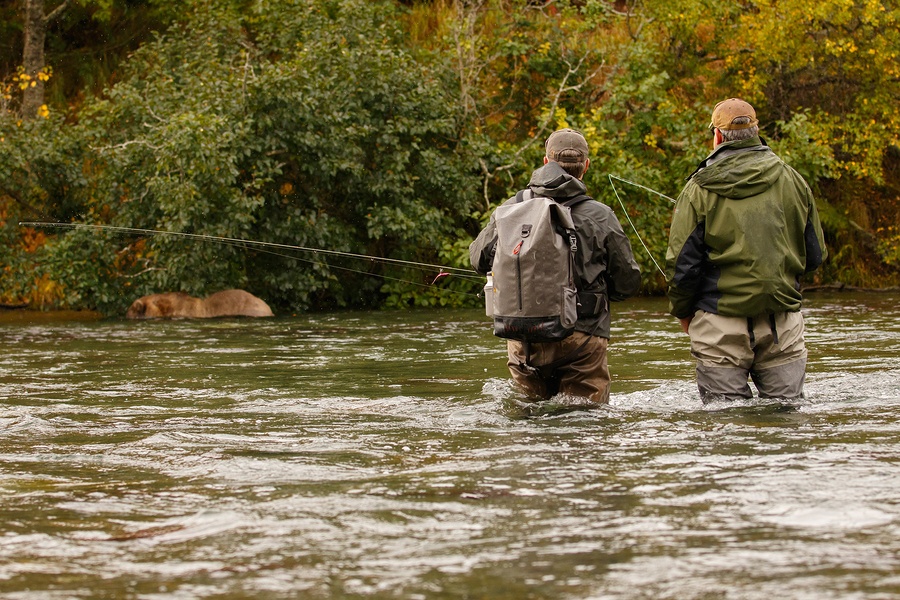 To go fishing offers "the chance to wash one's soul with pure air, with the rush of the brook or with the shimmer of sun on blue water," Herbert Hoover once said. And it offers a lesson in the "discipline in the equality of men, for all men are equal before fish." If your dad loves the outdoors, it's time to book a private aircraft charter for a fishing getaway on Father's Day weekend.
The Top Fishing Destinations in North America
Alaska
It's an ideal time for your dad to visit America's largest state. Between May and September is prime time to reel in Atlantic char, halibut, rainbow trout and king salmon — Alaska's state fish. Sparkling waters, majestic mountains and free-roaming wildlife provide an unparalleled backdrop that every fisherman should see for himself at least once in a lifetime.
Florida
The Sunshine State teems with fishing locales but Key West offers the best of both worlds: the chance to snag amberjack, blackfin tuna, kingfish and sailfish on the ocean side and bonefish, redfish and tarpon on the gulf side. Snapper and grouper are plentiful everywhere in between. Key West is one of those rare places where fishermen don't have to rise before dawn because great bites last all day long.
Louisiana
Jambalaya is a favored dish in Louisiana and you can enliven any recipe with the bass and redfish you'll find in the bayou or the offshore tuna that is so abundant in the Gulf of Mexico. Drum, flounder, sheepshead and speckled trout are also among the prized haul of proud anglers, who often return home with a trove of fish recipes gleaned from Louisiana's rich history of distinctive cuisine.
Minnesota
The North Star State boasts more than 10,000 natural lakes, but who's counting? Your favorite fisherman will be busier counting all the walleye in his boat. He'll be weighing them too, since the bulky fish is ubiquitous, especially in the Northwoods. This gorgeous area is encircled by magnificent, arching pine trees and resplendent resorts that combine luxury with hometown familiarity.
Wyoming
If your dad gravitates to the mountains, Wyoming is a natural choice for a Father's Day weekend. The state's lakes and streams teem with trout, and they are set against colossal and colorful rock formations that "catch" the rays of the sun. If fly fishing is on your dad's bucket list, Wyoming is an ideal place to master the technique. Yellowstone National Park is one of the world's great wilderness areas, but Jackson Hole, Pinedale, Miracle Mile and the Gray Reef on the North Platte River deserve your attention as well.
British Columbia
Canada has its share of great fishing as well, especially the western province of British Columbia. Consider Haida Gwaii, otherwise known as the Queen Charlotte Islands. Fishing charters and tours are the best way to enjoy this picturesque region. Farther south, the Clayoquot Wilderness Resort and Wickaninnish Inn are favorites among American luxury travelers in Vancouver Island.
Book Your Private Aircraft Charter
Herbert Hoover may have been right about all men being equal before fish, but you know that no one is equal to your dad. Make sure he knows just how special he is by booking a private aircraft charter through Cirrus Aviation Services. Call 702-472-9714 to arrange your Father's Day flight today.