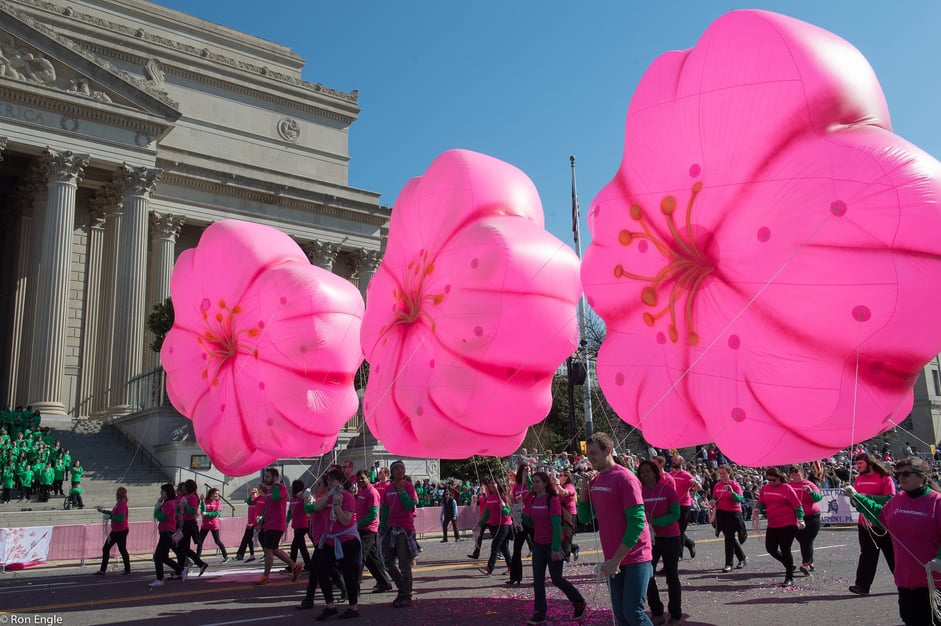 Photo: National Cherry Blossom Festival
Take a private aircraft charter to the nation's grand springtime celebration. Washington D. C. hosts the annual National Cherry Blossom Festival which is renowned throughout the nation. While you're there, find time to visit Washington's boyhood home in Mount Vernon.
Why Fly a Private Aircraft Charter to the National Cherry Blossom Festival
As legend has it, George Washington was only 6 years old when he famously confessed to chopping down one of his father's favorite cherry trees at their Virginia home. Cherry trees were popular back then, but this was still 174 years before Mayor Yukio Ozaki of Tokyo presented the nation's capital with a gift of 3,000 cherry trees to celebrate the friendship between Japan and the United States. Shortly thereafter – on March 27, 1912 – First Lady Helen Taft and Viscountess Chinda, wife of the Japanese ambassador, planted the first 2 trees on the north bank of the Tidal Basin in West Potomac Park. The first festival to commemorate this original planting took place in 1927, and it has grown steadily ever since. Today, the National Cherry Blossom Festival spans 4 weekends, welcomes more than 1.5 million visitors and features 5 mainstay events:
Pink Tie Party
7 p.m. to 11 p.m. Thursday, March 15, at the Ronald Reagan Building and International Trade Center
This is the event that kicks off the "blossom season" in Washington. Guests sample culinary favorites from the city's restaurant scene, enjoy an open bar and engage in friendly wagering during a silent auction. The proceeds benefit the National Cherry Blossom Festival, which is also a not-for-profit group.
The Opening Ceremony
5 p.m. to 6:30 p.m. Saturday, March 24, at the Warner Theatre
Japanese performers officially open the festival with spirited traditional and contemporary performances. The lineup includes: Singer T.M. Revolution (also known as Takanori Nishikawa), Singer Akiko Yano, Classical Ensemble The 6821 Quintet, Shodo Girls who dance while creating a work of calligraphy, and Drum Group Miyako Taiko.
Blossom Kite Festival
10 a.m. to 4:30 p.m. Saturday, March 31, at the Washington Monument
The advent of spring and kite-flying go hand-in-hand, and kite-makers and kite-flyers of all skill levels will converge on the grounds of the monument to show how it's done in demonstrations and competitions. Children can make their own kites at an activity station.
Petalpalooza
1 p.m. to 9:30 p.m. Saturday, April 7, at The Wharf
This is a day-long event you won't want to miss, with interactive art exhibitions, larger-than-life games and activities, live music on three stages, and, a firework display at night in the evening.
National Cherry Blossom Festival Parade
10 a.m. to 12 p.m. Saturday, April 14
This is the parade that Washington locals eagerly await: a procession of marching bands, celebrity entertainers, performers, elaborate floats, and giant helium balloons moving 10 blocks along Constitution Avenue, from the National Archives to the Washington Monument. This year, even an extreme pogo stunt team (XPOGO) will get in on the act.
Book your private aircraft charter to this exciting springtime event and be sure to plan time to visit other attractions in the nation's capital, including Mount Vernon, which George Washington inherited in 1761. Contact us to book your jet at 702-472-9714.