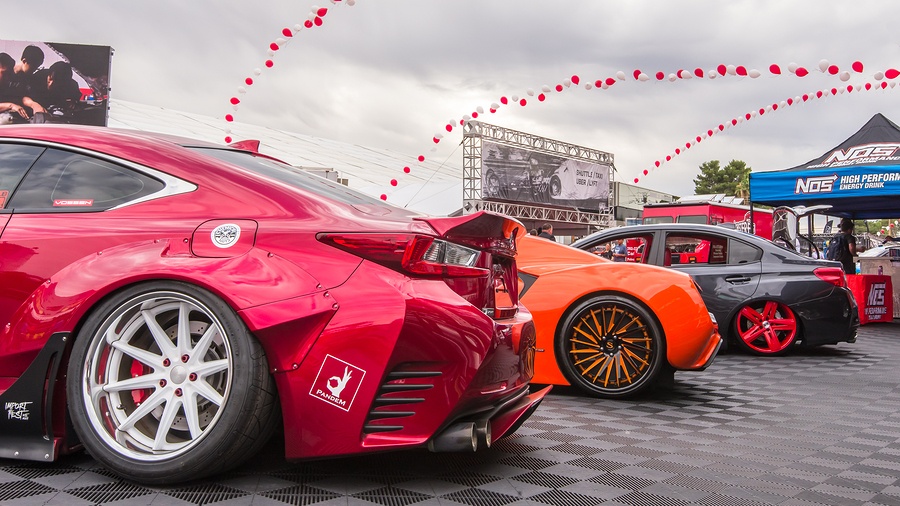 Where can car and truck lovers be among the first in the country to see innovations like Nitrous Power – a handheld backup battery that starts vehicles in mere seconds? Or the Sportz Cove tent – an awning that hitches to SUVs and minivans to provide shelter and shade? Or a three-stage painting system that provides a bright red, three-in-one undercoat, basecoat and topcoat?
The 2017 Specialty Equipment Market Association (SEMA) Show in Las Vegas is the leading automotive specialty products trade event in the world. Best of all, you can travel there via private jet with Cirrus Aviation.
Products Provide Cctane to SEMA Show
The 2017 SEMA Show takes place from October 31 to November 3 at the Las Vegas Convention Center. The trade association consists of a diverse group of manufacturers, distributors, retailers, publishing companies, auto restorers, street rod builders, car clubs and race teams.
The event will feature educational seminars, special events and networking opportunities. Attendees say their primary reason for attending SEMA is to discover a treasure trove of new products. More than 3,000 innovations appeared in the new products showcase in 2016 and even more are expected this year.
Register for the Show
SEMA is billed as the place "where the brightest minds come together a to see the industry's hottest products." It is a trade-only event open to qualified individuals employed in the automotive aftermarket industry. You can register for the 2017 SEMA Show online.
Online attendee registration is $40 per person until October 13. After that date, both the online and on-site registration will increase to $90.
Join SEMA before the Show
If you're a manufacturer, retailer, distributor, rep or installer, follow in the tracks of the 6,600-plus members of SEMA and join this high-octane group. SEMA helps members become more strategic and targeted with their promotions, saves money through group purchases and facilitates networking opportunities with key businesses leaders across the industry.
SEMA members enjoy certain perks at the annual show like entry to a members-only lounge, dedicated taxi lines outside the convention center and access to a VIP entrance line at the show's after-party.
Stars Appearing at this Year's SEMA Show
Members and non-members alike can revel in meeting dozens of celebrities, such as Bigfoot No. 1, "the original monster truck." Other show guests include:
Jeff Allen, star of "The Car Chasers" and the "SkidMarks Show" podcast
Jason Andrews, from the Australian TV series "All 4 Adventure-Unleashed"
Travis Deeter and Dan Coggins of the Discovery Channel's "Vegas Rat Rods"
Emerson Fittipaldi, a Formula 1 racer
Tanner Foust, a U.S. Rallycross champion and X Games gold medalist
Justin Montesalvo, star of TV's "Patriot Games"
Cirrus Aviation's Private Jets in Las Vegas will get you there in Style
You can reap the benefits by flying to the 2017 SEMA Show via a private jet in Las Vegas from Cirrus Aviation. Fly with one of the safest and most luxurious private jet company in the world by calling 702-472-9714.