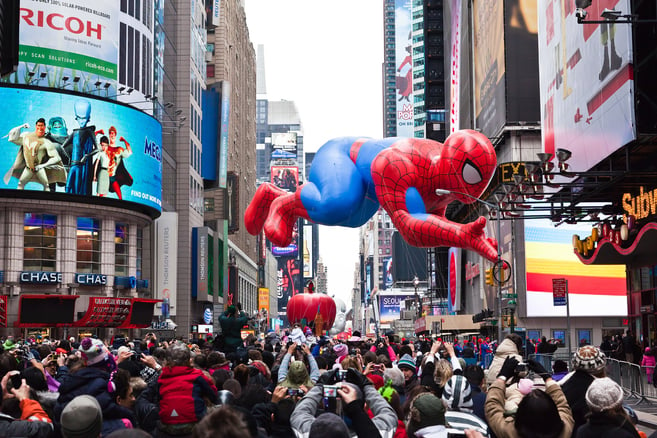 If you are planning a luxury holiday getaway and taking in one of the many grand parades taking place this time of year, you should consider traveling in style with a jet charter through Cirrus Aviation.
Top Parades to Take a Jet Charter to this Holiday Season
Macy's Thanksgiving Day Parade in New York City
Growing up, you may have been among the 50 million people across the country who enjoyed a hearty Thanksgiving breakfast before you tuned into the Macy's Thanksgiving Day Parade. Although watching it on TV may be one of your most cherished memories, attending the parade in person is bound to leave you breathless. Each annual parade seems to be more splendid than the last, and the 2017 parade has some particularly big shoes to fill. Last year, the parade featured 26 floats; 16 giant character balloons; 24 novelty, "balloonciles," "balloonheads" and trycalloons; more than 1,000 cheerleaders and dancers; and more than 1,000 clowns.
Philadelphia Thanksgiving Day Parade
Macy's may be the country's most popular parade, but the Philadelphia Thanksgiving Day Parade is the country's oldest. Now in its 98th year, this beloved East Coast event follows a 1.4-mile route. Last year's gargantuan balloons depicted such well-known characters as Tweety Bird, The Cat in the Hat, Curious George, The Grinch and Mr. Potato Head. Perhaps even more than the Macy's parade, the Philadelphia parade emphasizes performing artists, with singers, choirs and dance groups providing lively interplay with spectators.
The Winterfest Boat Parade in Fort Lauderdale on December 9
They don't have snow, but leave it to Floridians to use their most valuable natural resource – water – as a stage. They host the Winterfest Boat Parade, which features a wide-ranging fleet of private boats, large "showboats" and corporate yachts, each adorned with thousands of lights and decorations. Starting in downtown Fort Lauderdale, the parade travels to the Intracoastal Waterway and continues to Pompano Beach. Billed as "the greatest show on water," the parade has become the largest one-day, live audience event in Florida. It draws nearly 1 million cheering spectators, who stretch out comfortably along the long route.
Twinkle Light Parade in Albuquerque on December 2
The historic Nob Hill area of Albuquerque is worth taking a jet charter to any time of the year. The cosmopolitan area features galleries, vintage clothing stores, upscale restaurants and brew pubs, and spirited night life. But the "glam" hits a fever pitch during the Twinkle Light parade, which is racking up the "readers' choice" and "best holiday event" awards. Nob Hill serves as a glittering backdrop for Santa and the crew, a garden railroad for kids, and hundreds of decorated cars, floats and marching bands.
Book a Jet Charter This Holiday Season
Any of these larger-than-life parades is merely a phone call away. So what are you waiting for? Contact Cirrus Aviation at 702-472-9714 to book a private jet charter today!