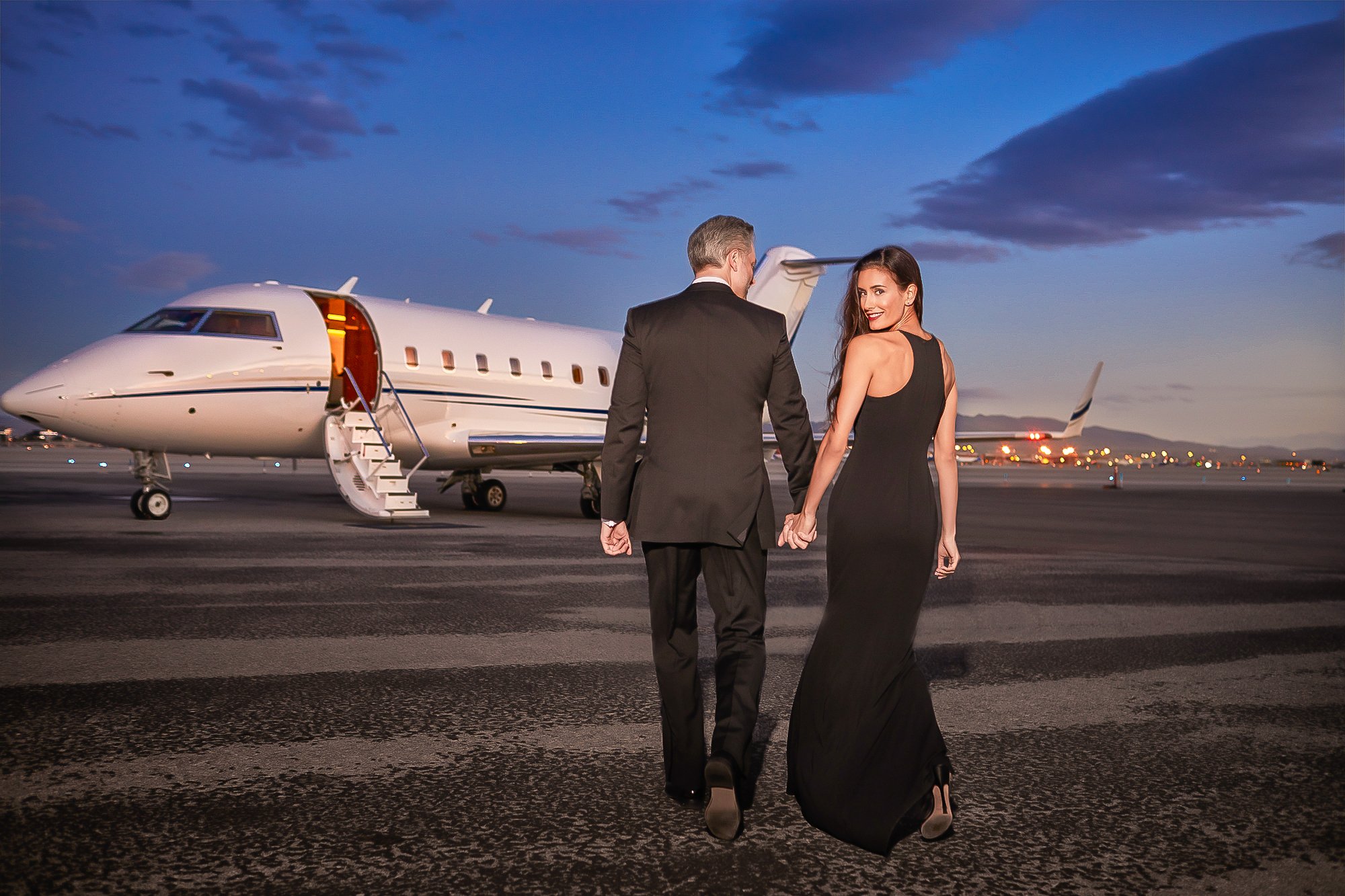 There are numerous advantages that travelers have when they fly on a private plane, but there are still some formalities involved. If you book a private jet in Las Vegas, or any other city, you will get to enjoy the private plane experience, but you won't be completely exempt from the airport security process.
You've seen television shows and movies that make it appear as if there are no formalities when you fly private, and people can just walk unattended into the terminal and to the plane. However, as you're likely already well aware, not everything you see on television and in the movies is completely accurate.
Skip the Long Lines When You Book a Las Vegas Private Jet
When you book a private jet in Las Vegas, you'll get to skip the long security lines at the airport. It doesn't mean that flying on a private plane is less safe than commercial planes, it's just a different process. Since private planes depart from a different airport or terminal, the only people going through security are you, the other passengers, and the flight crew. This means you won't be standing in long lines if there are 10 people total who are departing.
Facilities, where private planes take off, are usually called Fixed-Base Operators (FBO). They are typically quite small and lack the major traffic seen with larger commercial airports, like McCarran International Airport.
Pack Full Size Liquids When You Fly Private
While you still have to go through security, you don't need to worry about TSA requirements on liquid amounts and sizes. You'll have the freedom to pack full size toiletries without trying to get the right sizes or fit everything into the TSA-approved quart-sized bag.
Wear Your Favorite Shoes
Another perk of flying on a private jet is the ability to leave your shoes on when you go through security. Wear your favorite shoes when flying, even if they are not the easiest to get off and on, as you won't be dealing with that frustrating task when you go through security at a private terminal.
Captain Can Inspect Documents and Luggage
If you're flying internationally, you will need to have your documents inspected and verify that your passport will allow you entrance into the country where you are headed. The captain has the right to inspect your documents as well as your luggage. You cannot bring anything illegal with you either. Customs officials will be waiting when you land at your destination to handle immigration and customs screenings. While it's still a necessary formality, it is much easier than dealing with commercial airport immigration and customs.
Book a Private Jet in Las Vegas
No matter whether you're traveling to or from Vegas, you'll arrive faster if you book a private jet in Las Vegas. You'll save time, not have to deal with a lengthy security line, and enjoy real luxury travel. If you're planning a trip, contact Cirrus Aviation at 702-472-9714 and let us handle your flight. Call us today or click on our online quote form to learn just how easy it is to fly private.