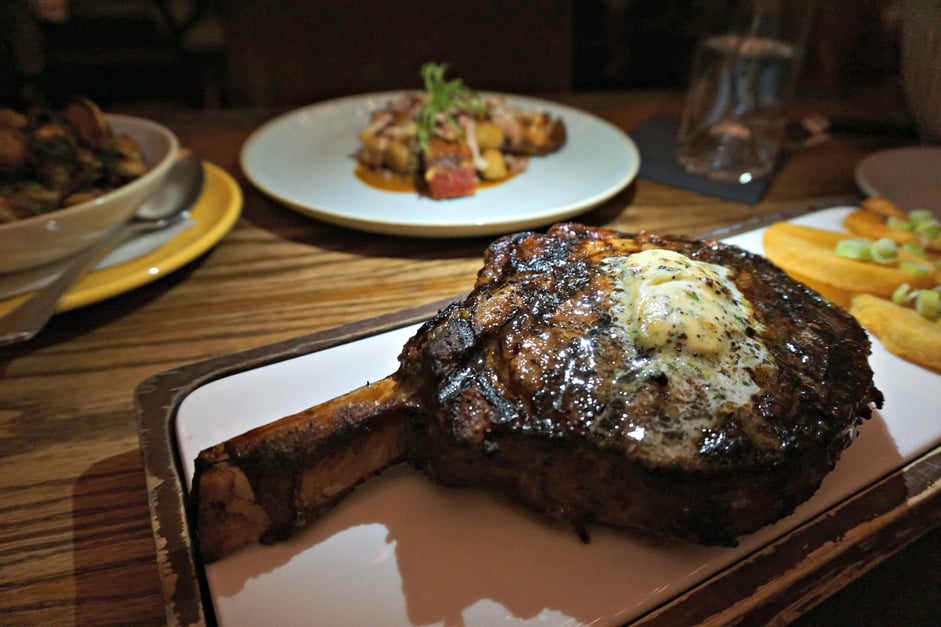 Story and Photo By Rob Kachelriess
Ever since opening in 2015, Yardbird has proven to be one of the most busy and bustling restaurants at the Venetian resort on the Las Vegas Strip. By offering a gourmet take on fried chicken, biscuits and other southern favorites, the casual dining spot has earned plenty of fans and lots of repeat business over the past two years. Yardbird is now mixing up its menu, offering some fresh additions and a new spin on familiar favorites.
The most dramatic new item is the $100 Fried Chicken and Waffles. It features the restaurant's signature Lewellyn's fried chicken - cooked in duck fat - and served alongside a truffle and bacon waffle with Russian Sturgeon caviar, maple foie gras butter, Breckenridge bourbon maple syrup and rose compressed watermelon with a gold flake on top. It's paired with an Old Fashioned that's included in the price. Although the indulgent dish was introduced to coincide with National Fried Chicken Day on July 6, you can still place an order anytime with 48-72 hours advance notice.
Unfortunately, the delicious BBQ Chicken has been taken off the menu, but in its place is an Herb Roasted Chicken that's perfect for summertime dining. The half-chicken is given a hint of spiciness with a salsa verde topping.
If red meat is more your thing, Yardbird has introduced a Cowboy Steak that's a hearty 20-ounce bone-in Ribeye. The Midwestern grass-fed cut is topped with a Montreal-style seasoning and an espresso rub that mixes nicely with a small slice of herb butter. It's best with the Crispy Brussels on the side - Brussels sprouts made with spicy honey, jalapeno and red pepper flakes. They're blanched and then flash fried for just a hint of crispiness.
A more adventurous dish is the Carolina Q Tuna - a serving of seared ahi tuna that's mixed with ham and topped with a mustard-based South Carolina style barbecue sauce. An odd combination, but it somehow works. Chopped okra is served on the side, lightly dusted with cornmeal.
However, the best new dish of all could be the Peppered Gnocchi Pot Pie. With savory amounts of rosemary, sage and thyme, it almost tastes like an entire Thanksgiving meal served in a pot - with some wild mushrooms included to keep things interesting. The restaurant's amazing biscuits are placed on both the top and bottom, adding up to an indulgent combination of flavors.
Enjoy some Southern style dining the next time you're in Las Vegas. Cirrus Aviation will book your flight as well as your reservation at Yardbird. Call 702-472-9714 today.