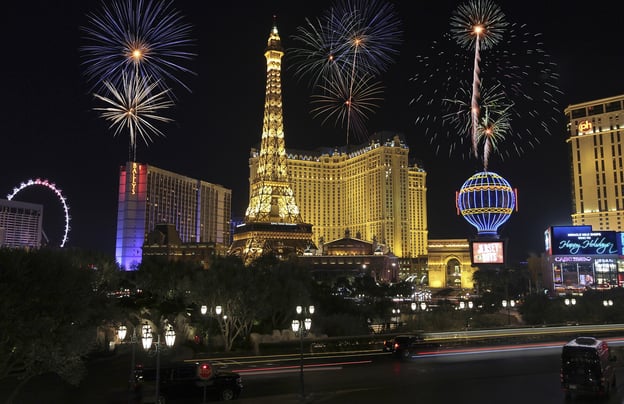 A pub crawl may sound like fun on New Year's Eve, but what about a jet crawl?
Charter a private jet through Cirrus Aviation and visit the top destinations for celebrating the arrival of 2018. Work the time zones to your advantage and enjoy a midnight toast multiple times in the same evening. EscapeHere makes it easy by ranking the top destinations in descending order.
New York City
Between the iconic Time Square ball drop and more than 100,000 places to enjoy a glass of champagne, New York is one of the best places in the world to celebrate the new year. It may get cold and crowded, but it's an unforgettable moment you must experience at least once in your life.
Honolulu
Seeing fireworks burst and descend over Waikiki Beach redefines the entire New Year's Eve experience. Cirrus Aviation knows the magic of the 50th state well — and began offering flights to Hawaii in June.
Los Angeles
Make sure your New Year's Eve pub crawl includes a visit to the Cleopatra Ball at the Egyptian Theatre in Hollywood. An LED light show, DJ and balloon drop competes with the best celebrations across the country.
Chicago
The Windy City is full of bars, restaurants and neighborhood hangouts. Navy Pier, anchored by a glittering ferris wheel, is regularly featured on national countdown shows as fireworks fall gracefully over Lake Michigan.
Portland
As one of the fastest growing cities in the country, Portland is rapidly earning a reputation as a up-and-coming destination for New Year's Eve. The Portland Champagne Ball is a hub of activity with 17 bars, four themed rooms and four dance floors. Revelers can crawl over to the Pearl District where the Big Legrowlski, Low Brow Lounge and the Teardrop Cocktail Lounge offer late night cocktails, craft brews and early morning buffets.
Las Vegas
Las Vegas is the home city of Cirrus Aviation and a destination where 300,000 revelers converge on the Strip for what has become known as the world's largest block party. The casinos work together to launch a choreographed fireworks display that will have jaws dropping from a number of vantage points.
New Orleans
Aside from Mardi Gras, New Year's Eve is the biggest, noisiest and longest party of the year in New Orleans — with most of the activity on Bourbon Street. At midnight, an enormous fleur de lis descends from a 25-foot pole as fireworks light up the sky and jazz is heard from every corner of the French Quarter.
Charter a Private Jet to Your New Year's Eve Destination
The clock is ticking on the remaining days, hours and minutes of 2017. Contact Cirrus Aviation to charter a private jet for any one — or more — of these hot New Year's Eve destinations. Call 702-472-9714 to finalize plans today.