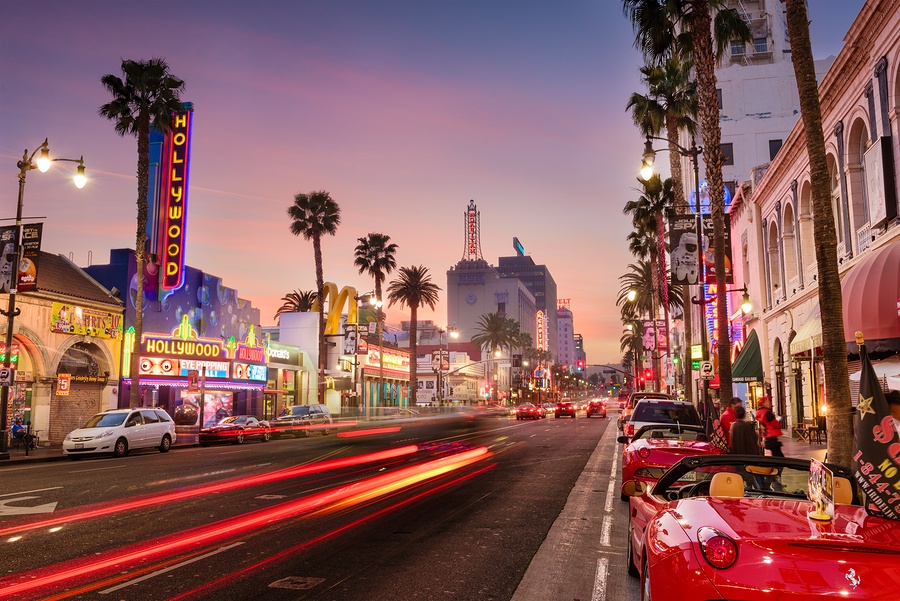 If you're ready to charter a private jet to Southern California, make sure to put a few legendary hot spots on your must-see list.
Taking the time to charter a private jet to southern California without going to Hollywood Boulevard would be like going to New York without visiting Times Square. There are certain renowned spectacles you must see for yourself. Be sure to check out the TCL Chinese Theatre, the site of many Hollywood movie premieres; the Hollywood Wax Museum, the oldest of its kind in the United States; the Hollywood Guinness World Records Museum with exhibits dedicated to unique people and accomplishments; the Hollywood Museum, home to more than 10,000 movie props and artifacts and of course, the Hollywood Walk of Fame, which stretches 18 blocks and features more than 2,500 brass stars that celebrate entertainment icons.
This seaside gem is home to one of the most spectacular white sand beaches in the country, but you can also spend several days strolling the streets of this bustling enclave while visiting upscale boutiques, galleries, restaurants and seafood havens. Must-see attractions include the Museum of Contemporary Art San Diego, Legends Gallery (which features the work of Dr. Seuss) and the Marine Room, whose "high tide" dinners feature tall waves crashing into giant windows. The ocean remains in full view every step of the way in LaJolla, as do the seals that lounge – and bark – along the shores. They dip under the water before beach lovers gather around fire pits to watch the sun set at night.
If you've only seen Rodeo Drive in the movies, you might be surprised that this world-class shopping district is only three blocks long, stretching from Sunset to Wilshire Boulevard. But architect Frank Lloyd Wright, who made his mark there, ensures that it packs a mesmerizing punch. Take the Beverly Hills Trolley to see even more of this posh area.
Charter a Private Jet to Southern California
Travel in style to one of the country's most prestigious regions with Cirrus Aviation Services. Charter a private jet to Southern California by calling 702-472-9714– and see how long it takes for you to start humming the chorus of "California Dreamin'."