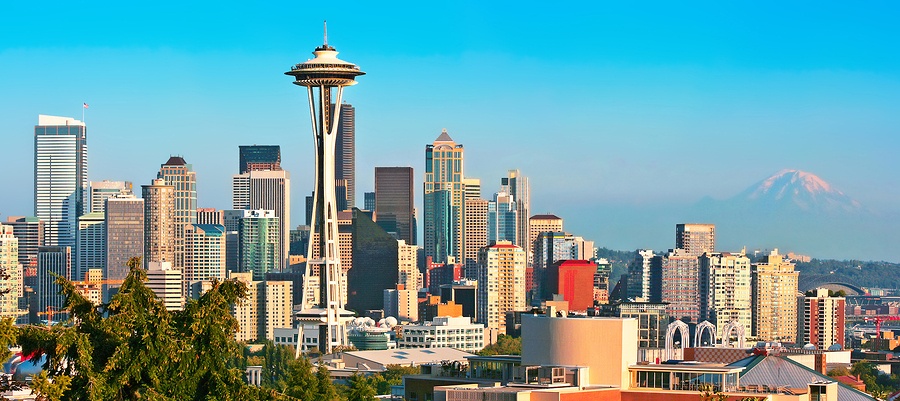 As summer turns to fall, it's a great time of year to charter a private jet to Seattle. The weather is still warm and the summer crowds have diminished, creating the perfect opportunity to explore the city's many exciting attractions. From the waterfront walking trails of Discovery Park to the heights of the Space Needle, there are plenty of things to see and do, even in a short weekend trip to the city.
This dynamic dining and shopping spot has something for just about everyone. Located on the waterfront, this year-round market features aisles overflowing with fish, produce, floral arrangements, artwork and other local crafts.
One of Seattle's greatest features is its geography. Explore the beauty of the city and the surrounding regions via a Washington State Ferry tour featuring panoramic views of the skyline, island vistas and towering Mt. Rainier with the Olympic Mountains in the backdrop.
Wonder at the marine life at the Seattle Aquarium
Situated on Pier 59, the Seattle Aquarium is world renowned for its fantastic exhibits and dedication to promoting marine conservation. A Marine Mammals area includes exhibits for sea otters, northern fur seals and harbor seals while a Crashing Waves exhibit uniquely replicates the intertidal environments along Washington shores.
Journey to the top of the Space Needle
Seattle's Space Needle is undoubtedly the city's most iconic structure. Rising an incredible 605 feet above the ground, visitors enjoy fantastic 360-degree views of the city and surrounding landscapes.
Ready to pack your bags and take a flight to this great northwestern city? Get the most out of your time and money by chartering a private jet to Seattle with Cirrus Aviation Services. When you charter a private jet there are no layovers, extensive security checks or required two-hour wait before departure. Contact Cirrus Aviation Services online or call 702-472-9714 to learn more.