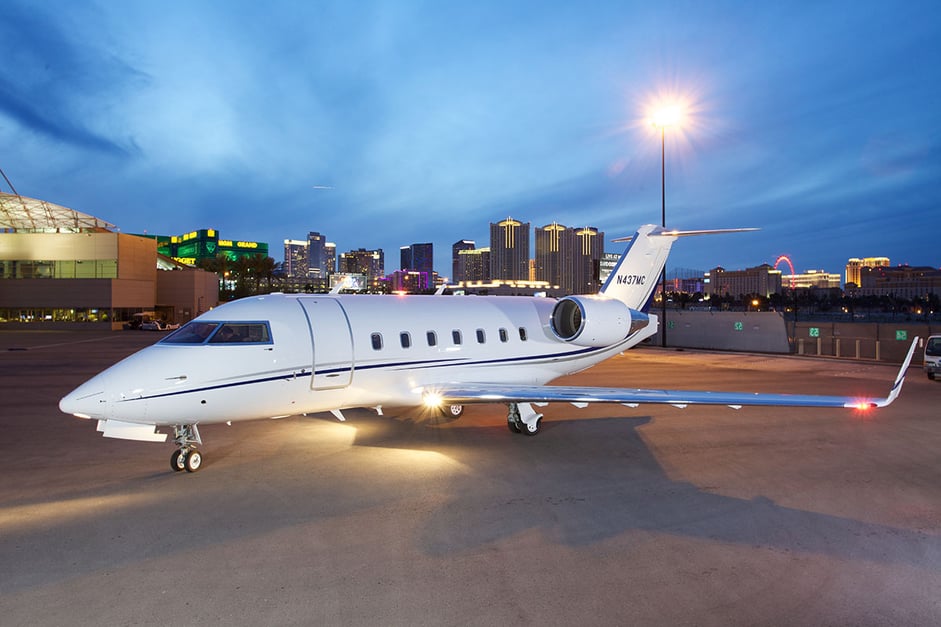 Cirrus Aviation Services picked a tough time to get started in Las Vegas. "We introduced ourselves to the Las Vegas market in 2009 when the aviation industry was struggling due to the recession," says CEO Greg Woods. "But it worked to our advantage. We picked up business as the competition was forced to cut services or withdraw entirely."
Cirrus Aviation has seen dramatic growth in customers, flights and revenue since then - and is now the largest private jet charter service in Las Vegas. The company has deep roots in the aviation industry with more than 35 years of experience. Woods, who left behind a promising career in engineering to run the business, says convenience and accessibility are the keys to success. His team is available to customers round the clock, offering services that range from aircraft management to concierge availability and of course, flights to and from thousands of destinations around the world. .
"Las Vegas is an ideal market for private air travel," he says. "A group of friends could be out for drinks in L.A. and decide on a whim to fly to Vegas. With a quick phone call, they can be wheels up within 90 minutes."
Everyone benefits. Money is spent not only on flights, but also casinos, hotels, restaurants and entertainment. The Las Vegas Convention and Visitors Authority says more than 42 million visitors spent billions of dollars in 2015. A big chunk of that money is from high rollers who flew into town on a private jet. Cirrus Aviation also works directly with gaming management companies based in Las Vegas. Executives are flown by private jet to their properties around North America, offering convenience and efficiency for corporations who employ thousands of people and generate billions of dollars for the local and national economies.
"The primary driver for the aviation industry is time efficiency," says Woods as he recalls how a mining company based in Denver was able to fly in executives from the Las Vegas area and return them home within the same day using Cirrus Aviation. "The main airport, Denver International, was quite a bit further away from their headquarters than the smaller one we were using." So by landing closer to their offices, about 40 minutes of ground travel was eliminated in each direction. "They were also able to take off and land on their own time without an extra hour of waiting around at the airport for the TSA or stuck in line while taxiing on the runway. The company estimated that we saved them about six hours of time during that trip."
Time is money. And there is no limit to the industries that save precious minutes by using private air travel. Cirrus Aviation may fly a legal team to another city or state to conduct depositions and return the same day to carry on with their trial work. Of course, the entertainment scene is a big part of the Las Vegas economy. Woods frequently flies singers, rock bands, DJs and comics in and out of town. Some may perform two shows a night, especially the DJs, who would find it difficult to keep up with their busy schedules without the benefit of private aviation.
Las Vegas has also become a prime destination for medical tourism. There is a growing number of travellers flying in from Canada for procedures that are sometimes backlogged in their home country. "We're used to handling celebrities and other high net worth clients discreetly and Vegas has no shortage of world class facilities to help them recover," adds Woods. The trend has led to the increase of high-valued doctors and medical professionals in Southern Nevada, which ultimately benefits everyone in the community. Cirrus Aviation can also use its aircraft to bring doctors and dentists to remote corners of Nevada to deliver care that may typically only be available in big cities like Las Vegas and Reno.
Of course, this is all in addition to the jobs created directly by Cirrus Aviation at its home base inside the Atlantic Aviation terminal at McCarran International Airport. "We have 18 full-time pilots, seven mechanics and a large office staff for accounting, sales and other duties," says Woods. "Our team is the best at what they do. And they're ready to give you a warm welcome on your next Las Vegas flight." Call Cirrus Aviation at (702)-472-9714 for inquiries.