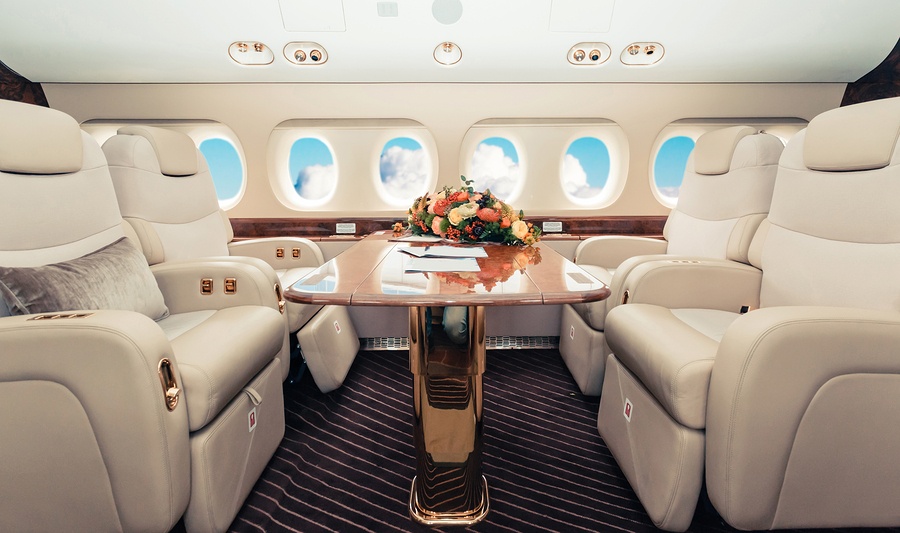 Travelers are often asked if their trip is for business or pleasure. While both purposes are frequently mixed together, each one calls for different needs and services. We've put together a short guide on how business aviation and personal private air charters may differ.
Business Aviation vs. Private Air Charter
Business Aviation
The term "business aviation" came about in the mid-1900s to describe the use of any general aircraft hired expressly for business purposes. Today, we mostly use the term to describe any private plane a client books for business needs. The term underscores the value of private aviation for businesses big and small.
When you book a private business jet, the primary value is found in time and efficiency. Business associates are given the opportunity to prepare presentations and discuss key details of upcoming meetings with space and privacy. Choose a jet outfitted with face-to-face chairs and business-friendly amenities like tables, electronic jacks and WiFi to take full advantage of the time spent traveling. Time, arguably the most valuable commodity in today's corporate world, is a primary motivator for business aviation booking and what Cirrus Aviation is designed to accommodate.
Private Air Charter
Those who book a private air charter for leisure purposes are generally focused on destination and comfort. They seek experience-oriented destinations, whether it's an impulse ski trip to Aspen or a New Orleans vacation planned months in advance. In either case, the primary value a private air charter brings to the table is speed and flexibility.
A private jet charter is not bound to any strict schedule or destination. Cirrus Aviation tailors flights to suit any travel itinerary, including spur-of-the-moment plans. Private jet travelers enjoy skipping long TSA lines and the other rigorous protocols associated with major airlines. Simply park and enjoy being escorted directly onto the flight with your luggage, quickly and securely stowed aboard. All these reasons plus the ability of private jets to fly more than 5,000 feet higher than commercial airliners significantly reduces the length of the journey.
Book Your Next Business Aviation or Private Air Charter Flight With Cirrus Aviation
Whether traveling for business or pleasure, private air charters provide efficiency, flexibility and comfort. Cirrus Aviation will accommodate last-minute flights for your business team or spur-of-the-moment vacations for your family. Contact a booking agent by calling 702-472-9714 to schedule your next flight.