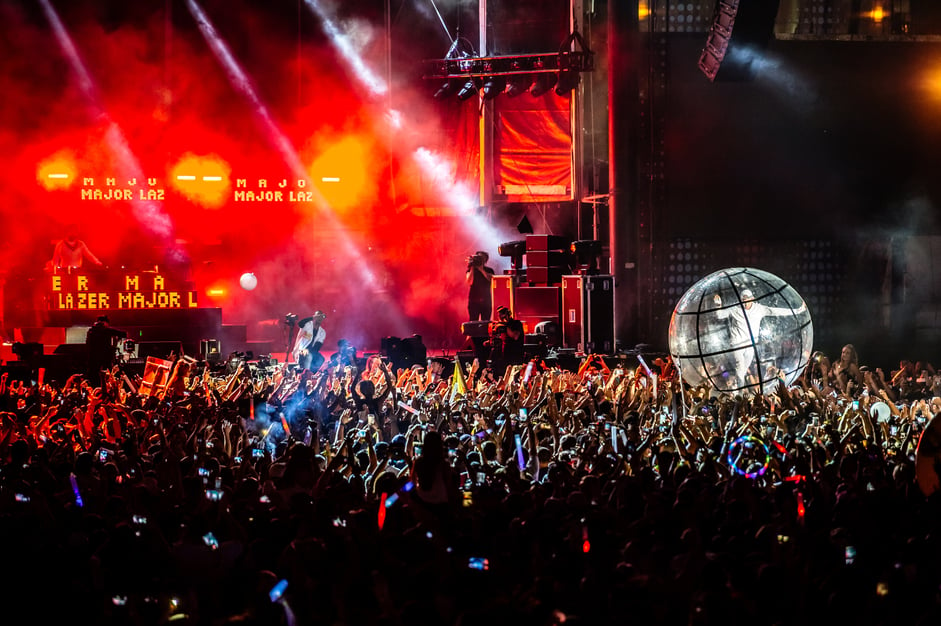 Photo: Life is Beautiful
The Life is Beautiful festival is a three-day multi-sensory experience that brings music headliners like Muse, Gorillaz, Chance the Rapper, Lorde and Blink 182 together for a weekend of performances on four different stages in downtown Las Vegas. There's also great food, art, attractions and educational speakers like video fashion blogger Bethany Mota and singer Rachel Platten. The annual event is the perfect excuse to book a private jet to Las Vegas through Cirrus Aviation.
Absorb Some Beautiful Basics
The 2017 Life is Beautiful extravaganza takes place, rain or shine, from Friday, September 22 to Sunday, September 24. It will encompass 18 city blocks east of the famous Fremont Street Experience, opening its gates from 2 p.m. to 1 a.m. on all three days. Life is Beautiful is open to people of all ages with attractions that appeal to everyone.
Guests will need a wristband to walk freely through the festival boundaries. Single-day passes are sold out but three-day weekend passes are still available. Guard your wristband carefully like cash, since they cannot be replaced if lost or stolen.
Consider Some Beautiful Distinctions
Beauty and art are front and center at the festival, including a 3D "lightning bolt" mural by artist Felipe Pantone. With 267 linear feet of neon, it may help cast light on the five reasons why globetrotting festival-goers say Life is Beautiful leaves such an indelible imprint on attendees:
It fits in seamlessly with its surroundings, explains why Life is Beautiful is a better fit for downtown than the Strip.
It elevates art to an immersive experience since artists are invited to do more than showcase their work. They seek to engage festival-goers with interactive concepts.
It features celebrity chefs who reveal their favorite techniques, often by grilling, sautéing and plating dishes right before the hungry eyes of visitors.
It offers a learning series that's rare among major festivals, allowing attendees to hear from a wide variety of thinkers, doers and social scientists.
After it closes for the day, it spills over into the many restaurants, casinos, nightclubs and entertainment venues that've put a red star next to Las Vegas on the international tourism map.
Book Your Private Jet to Las Vegas Through Cirrus Aviation
Ensure your flight accommodations are beautiful by booking your private jet to Las Vegas through Cirrus Aviation. Revel in the comfort, privacy and amenities of luxury travel by calling 702-472-9714 today.