No, your eyes aren't deceiving you. As your plane descends into the greater Las Vegas area, it's no wonder McCarran International Airport looks like a quiet little hamlet.
But look again. This view lies in comparison to the glittering lights of soaring hotels, casinos and all the frenetic activity that bustles inside. In reality, that "little hamlet" served 47.4 million passengers last year – and the airport is bracing for even more growthby renovating seven existing gates.
It's not like you need a reminder about why you prefer to fly by a Las Vegas private jet. But it's news like this that does indeed remind you of all the advantages private travel affords – and avoids at the same time.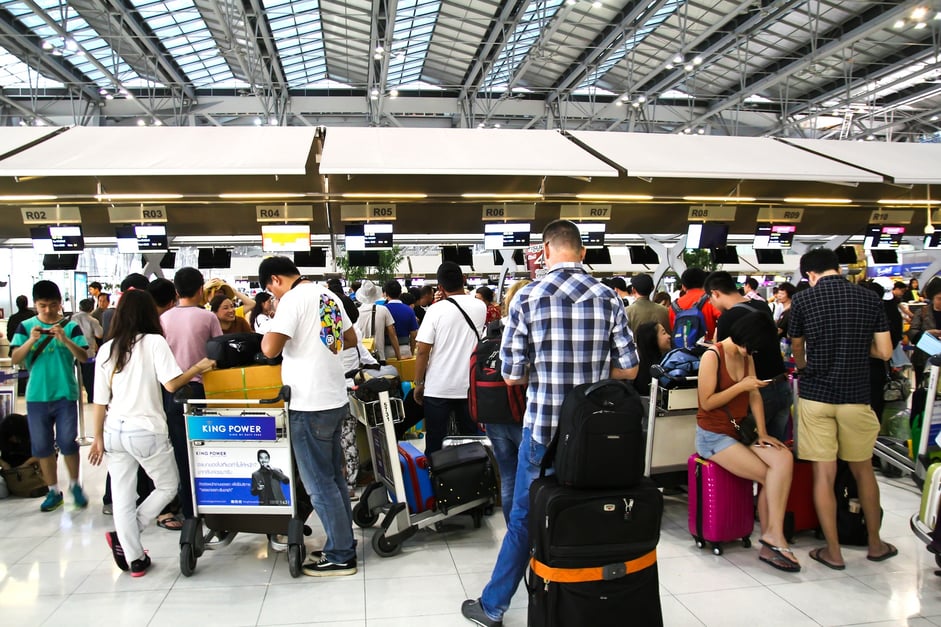 McCarran bustles with a record number of travelers
Last year was the second busiest year in McCarran's 68-year history. It served 4.5 percent more passengers in 2016 than in 2015, pulling it close to its 2007 record of serving 48 million passengers. (What happened in 2008? Blame the Great Recession for thwarting enthusiasm for both business and leisure travel.)
"As Las Vegas continues to be one of the world's top leisure and business destinations, McCarran is committed to supporting our community and prides itself on being part of the Las Vegas experience," Rosemary A. Vassiliadis, director of the Clark County Department of Aviation, told the Las Vegas Sun.
The number of domestic passengers at McCarran grew by nearly 5 percent in 2016, meaning nearly 2 million more people rushed through arrival and departure gates. But it's the international passenger volume that McCarran officials see as a tipping point for the airport. It grew by just over 2 percent in 2016, with more carriers offering direct flights to Las Vegas.
To prepare for this growth, seven more of McCarran's 110 gates will be equipped with the secure corridors required to usher arrivals to U.S. Customs and Border Protection officers. This project will allow up to six additional wide-body, international aircraft to park at McCarran's gates simultaneously.
McCarran growth spurt underscores private travel benefits
The conscientious professionals at McCarran will no doubt do their level best to accommodate the influx of passengers, this year and beyond, in a timely and efficient manner. But you don't need to take a seat in the cockpit to see what's on the radar for McCarran. It's a mathematical certainty that more people will inevitably lead to more of the natural tribulations of commercial travel.
You can avoid them all when you take a Las Vegas private jet, and in particular…
Delays, only some of which are caused by weather. More air traffic on McCarran's four runways cannot help but cause some delays, especially at peak travel times. A delay is virtually non-existent when you book a Las Vegas private jet, unless you specifically request it.
Slower travel. By virtue of their size, private jets can fly faster and higher than commercial aircraft. Fly above bad weather, avoid most turbulence and arrive at your destination in due haste on a Las Vegas private jet.
Long lines, at the gate, at the baggage claim, in the restaurants and everywhere else at McCarran. Take a Las Vegas private jet and you can go straight from your car to your waiting jet.
International travel headaches, especially passport control, security checks and luggage loading and unloading. The people behind your Las Vegas private jet charter, Cirrus Aviation, make international travel a breeze.
Rote menu and entertainment options. Fly by private jet and decide what you wish to eat, when you wish to eat and which movie should accompany your favorite bottle of bubbly. When you take a Las Vegas private jet charter, it's a first-class experience from beginning to end.
Book a Las Vegas private jet through Cirrus Aviation
When you size up the advantages of taking a Las Vegas private jet, you will view Cirrus Aviation as the true "hamlet" of luxury, prestige and exclusivity travelers at McCarran can only wish for. Call (702) 472-9714 to book your flight today.