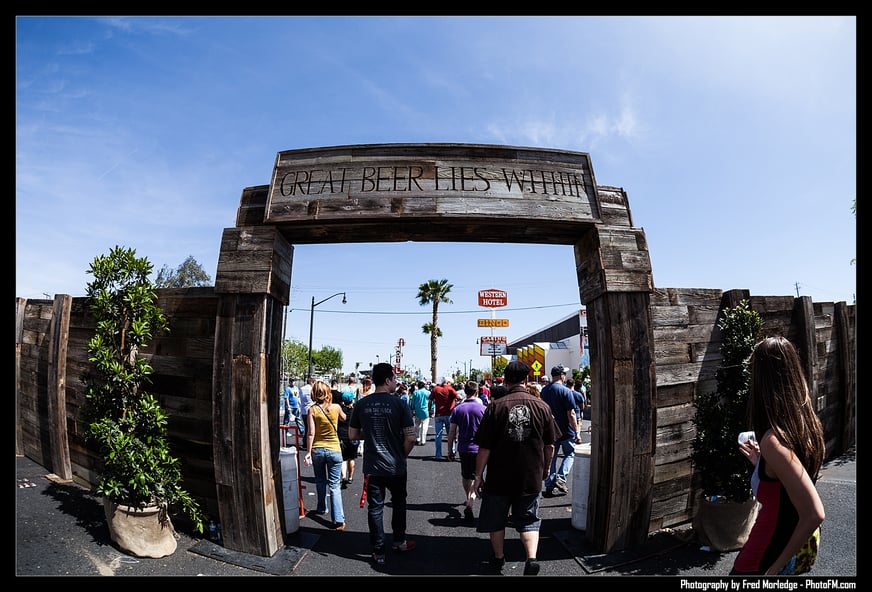 Photo: GreatVegasBeer.com
Celebrate National Beer Day with one of the biggest outdoor events in Las Vegas this spring. The Great Vegas Festival of Beer by Motley Brews is Friday, April 6 and Saturday, April 7. Travel to Las Vegas in luxury – with or without a beer in hand – via private jet service by Cirrus Aviation to enjoy this amazing two-day Downtown party.
Festival Emphasizes Sample Sizes
Downtown Las Vegas will stage Nevada's largest craft beer festival with more than 500 craft beers from more than 120 local, regional, national and international breweries. Chefs from some of Las Vegas' top restaurants will cut through all that foam with their own beer-inspired and beer-infused cuisine.
Combined with an educational series known as BrewLogic, dancing at a silent disco, karaoke and "interactive and experimental craft beer experiences," the event promises to make history in ways that probably would have surprised Franklin Delano Roosevelt. Beer lovers can thank him for providing inspiration for National Beer Day when he signed the Cullen-Harrison Act on April 7, 1933 which made the sale, purchase and consumption of beer and wine legal for the first time since Prohibition in 1920.
Travel by private jet service to the eighth annual Great Vegas Festival of Beer and separate your weekend into two definitive experiences: the Mad Craft Experience and the Great Vegas Grand Tasting.
Two Experiences Come to a Head
Held from 7 to 10 p.m. on April 6, the Mad Craft Experience will tempt the palates of beer lovers when they're not too busy voting for their favorite fare during culinary competitions. Tickets to the event are limited, so it's a good idea to purchase them even before you book your private jet service through Cirrus Aviation.
The experience builds to the Great Vegas Grand Tasting, held from 3 to 7 p.m on April 7. Two attending restaurants are sure to tempt foodies: Chef Stephan LaSala from Searsuckers, which specializes in classic American dishes, and Chef Shane Stuart from Panacea, which touts the benefits of plant-based cuisine.
Ale fans hoping to create the most obvious pairing of all – beer and pub food – will be delighted to see a variety of food trucks spread throughout four city blocks:
Flat Top's Burgers
Outsliders
QFS Tacos
Sin City Wings
World's Best Corndogs
The Great Vegas Festival of Beer is produced by Motley Brews, which stages beer festivals all over the country. "We have separated Great Vegas from any other beer festival in the nation by introducing new interactive and experimental experiences for craft beer lovers," says CEO Brian Chapin. "This year, we're adding even more entertainment, culinary options and of course, beer."
Book Private Jet Service with Cirrus Aviation for a Beer Lover's Weekend
After arranging your private jet service with Cirrus Aviation, consider following the lead of FDR, who signed the Cullen-Harrison Act and declared, "This seems like a good time to have a beer." Contact Cirrus Aviation Services at 702-472-9714 to book your flight.