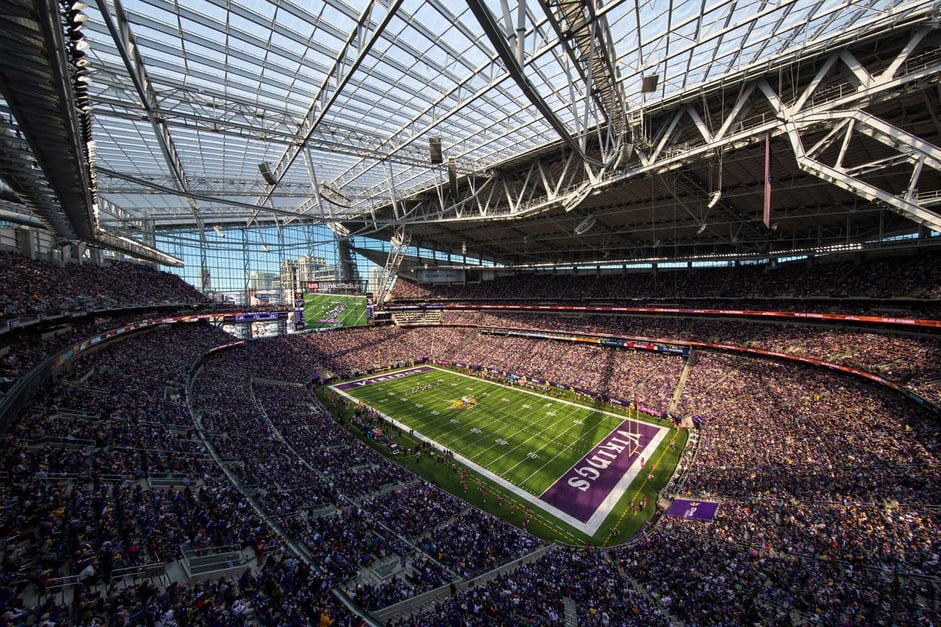 Photo: Brace Hemmelgarn-USA TODAY Sports
Fans will be captivated on Sunday, February 4 as they witness football's biggest game of the year, Super Bowl LII. For an unforgettable experience, book a private jet charter to America's premier sporting event in Minnesota's state-of-the-art U.S. Bank Stadium. Tailgate with fellow fans, cheer for your favorite players and enjoy the magic of the long-anticipated halftime show live and in person for the ultimate football experience!
Bold, New Stadium for a Bold Event
Super Bowl LII returns to Minnesota for the first time since Super Bowl XXVI. The Washington Redskins defeated the Buffalo Bills 37-24 on January 26, 1992 in the Hubert H. Humphrey Metrodome, the former home of the Minnesota Vikings. U.S. Bank Stadium, not yet two years old, is a bold replacement. Located in the heart of Minneapolis, the stadium features a fixed and slanted roof that is about 60 percent transparent. This feature gives the stadium a distinctive outdoor feel and is aimed at appealing to every kind of football fan.
U.S. Bank Stadium cost more than $1.1 billion to build. Eager to show it off, NFL Commissioner Roger Goodell announced in May 2014 that Minnesota would host the 2018 Super Bowl at the new stadium, which seats 66,200 people but can be expanded to fit as many as 70,000 – and in Viking-purple seats. U.S. Bank Stadium also offers an amenity that is the envy of other NFL teams: a partnership with Celebrity Chef, TV Personality and Hometown Foodie Andrew Zimmern, who plans many of the menu offerings at U.S. Bank Stadium.
A Super Star Entertainment Lineup
Known for her distinct style and sassy attitude, Rock Star Pink will open Super Bowl LII with a bang. This world-renowned recording artist leaves a unique mark on every performance, and her rendition of the National Anthem is sure to be no different. Fans all across the country are steeped in anticipation to see how she combines her rocker attitude and effortlessly powerful voice to add her markedly "Pink" flare to this beloved ballad.
Later, Justin Timberlake is expected to stoke the coals of excitement generated by the release of his newest album, Man in the Woods. A 10-time Grammy winner, Timberlake has always given performances that leave audiences buzzing. He is also a Super Bowl veteran, having performed at Super Bowls XXXV and XXXVII. Seeing two of the biggest stars in the world perform at one of the biggest events of the year is sure to be nothing short of spectacular!
Reserve Your Private Jet Charter with Cirrus Aviation
Travel in style to the most anticipated event of the season! Call us at 702-472-9714 to book your private jet charter today.