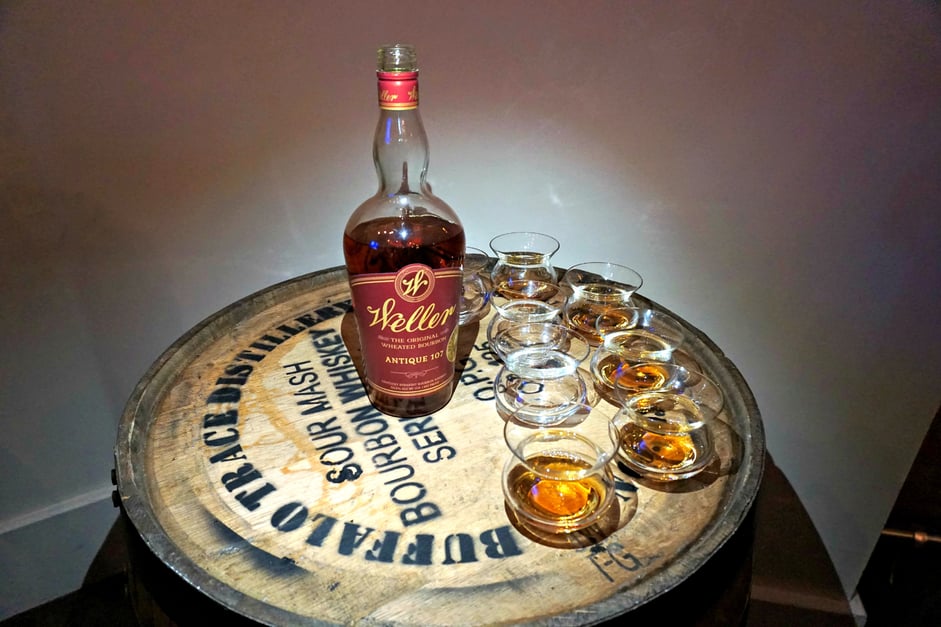 Story and Photo by Rob Kachelriess
Whiskey fans have a new reason to visit the Emeril Lagasse lineup of restaurants in Las Vegas. The culinary team has unveiled its own W.L. Weller private barrel release, bottled at 107 proof. Aged for nearly seven years in Frankfort, Kentucky by the Buffalo Trace distillery, it has the "exact DNA" of the highly treasured Pappy Van Winkle lineup of bourbons.
"We're super excited. The whole project has been in the works for about a year," says Director of Operations Mike Olsen. "We did some sampling on the product about eight or nine months ago."
Olsen's team eventually selected Barrel No. 029 to be their exclusive bourbon of choice. "It was more balanced," he says. "It didn't drink too hot, but it wasn't too soft. It had the right complexity to it. It had some nice toasty honey notes."
The barrel produced 156 bottles that will be stocked at Delmonico Steakhouse at the Venetian, Table 10 at the Palazzo and Emeril's New Orleans Fish House at the MGM Grand. The bourbon will be served neat with 1.5 oz. pours at $14 as well as two $15 cocktail options. Six Degrees of Separation is a citrus and honey drink that's a cross between a Brown Derby and a Gold Rush. South for the Winter mixes the bourbon with Camus VS cognac, which produces a smoky bacon taste and aroma when blended with maple syrup.
Although the cocktails were kept simple to preserve and enhance the taste of the bourbon, whiskey lovers should try it on its own at least once. The complexity of flavors produces a smell of vanilla, custard and dried banana, while the taste hints at notes of charred corn, oak, cinnamon and pepper. At 107 proof, it almost tastes like a 10 or 11 year aged bourbon.
"There is no other Weller 107 that will taste like this," adds Olsen. "It's all ours, and I think we really nailed it with the quality and the taste."
Make sure you take a sip of this rare W.L. Weller private release during your next visit to Las Vegas. Cirrus Aviation Services will set you up in style with a flight on board a world class private jet as well as a reservation at one of Emeril Lagasse's Las Vegas restaurants. Just call 702-472-9714 today.