We're fast approaching what could be the best weekend of the year for a whiskey lover to visit Las Vegas. The Universal Whisky Experience returns for the seventh year in a row at the Wynn and Wynn Encore. It's an upscale event geared towards both experts and those who wish to learn more about the spirit.
"I've been a big whiskey connoisseur and collector for more than 30 years," says Mahesh Patel, the founder of the event. "I wanted to create an experience where we bring the best of the best whiskeys from around the world… Not just Scotch. So Japanese, Irish, American, you name it. All of that stuff."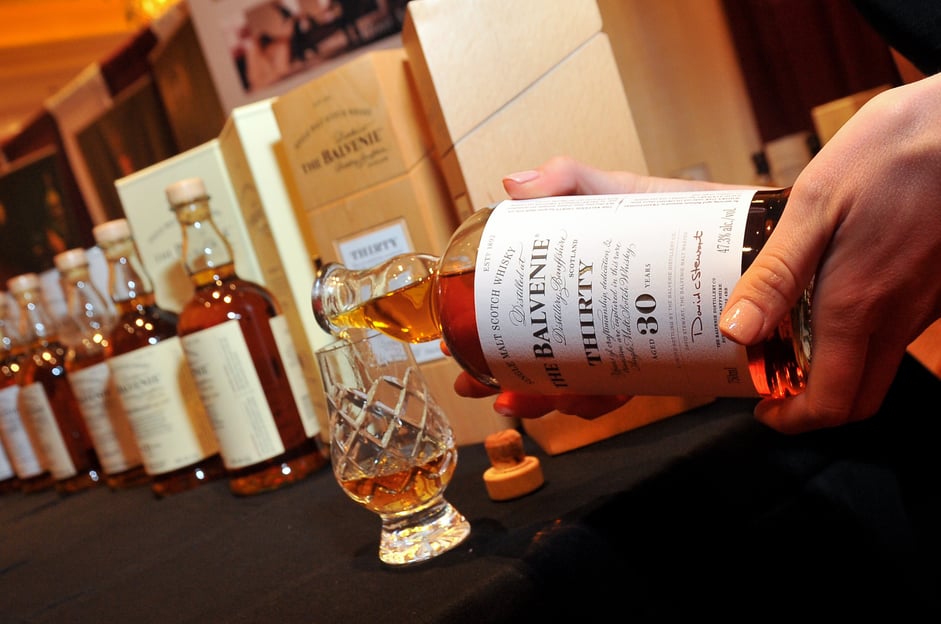 Photo: Universal Whisky Experience
The main event is the Nth Show, a grand tasting on Friday night, April 7, inside the Beethoven Ballroom at 6:30 p.m. Patel wanted the show to be comfortable and not crowded, so attendance is capped to about 300 people. They'll enjoy 45 booths with 130 brands and 250-300 whiskey samples. "It's about picking and choosing," he says. "It's not a drinking festival. It's an enjoyment festival."
Tickets for the grand tasting go for $545. However, High Roller tickets of $2,995 open the door to a weekend of exclusive events, including classes, meetings and an evening of Super Pours on Thursday night, April 6, 4:30-7:30 p.m. "We take our top paying customers into a high roller lounge, the Chairman's Salon at Wynn," explains Patel. "We'll bring in 25 to 30 very expensive whiskeys, anywhere from the high-hundreds to a $100,000 a bottle. We open these and they get tasted in a very intimate, relaxed experience."
Other High Roller events include Whisky Speed Dating later that night (9-11:30 p.m.) where attendees interact with seven whiskey experts, a late night dinner and reception on Friday (10 p.m.to midnight), a series of classes and a tasting experience with master distiller Richard Paterson on Saturday (5-9 p.m.)
It's safe to say the Universal Whisky Experience is about trying new things. Three years ago, the festival set up the world's first whiskey tasting in the Grand Canyon. "Not on top of the rim," Patel points out. "In the Grand Canyon… We chartered eight helicopters... We were about 800 feet above the river. We sat there for three hours and opened up five very, very rare vintage whiskeys."
Patel says there's a good chance the Grand Canyon experience will return again, possibly as early as next year. He's also excited about a sold-out pairing dinner at Joel Robuchon that kicks off the festival Wednesday night. It's a tradition that started four years ago. "It's turned into something quite cool," he says.
One of the main goals this weekend is to educate guests. That's why a "companion ticket" is also offered for the grand tasting Friday night. It comes at a lower cost ($295) and is for guests not specifically interested in whiskey who can sample wine, champagne and food instead. "We don't stop them from trying whiskey," says Patel. "They get a champagne flute in their bag, but we also give them another glass (to try whiskey). Every year, we've converted so many companions to whiskey."
Ultimately, Patel recommends being adventurous. "People are going out and exploring more… Try everything"
The Universal Whisky Experience is the perfect excuse to fly into Las Vegas, especially since you won't see another event like it for another year. Cirrus Aviation will book your flight on board a world-class private jet, secure tickets and even set up reservations at the Wynn or Wynn Encore for the weekend. Call (702) 472-9714.
By Rob Kachelriess