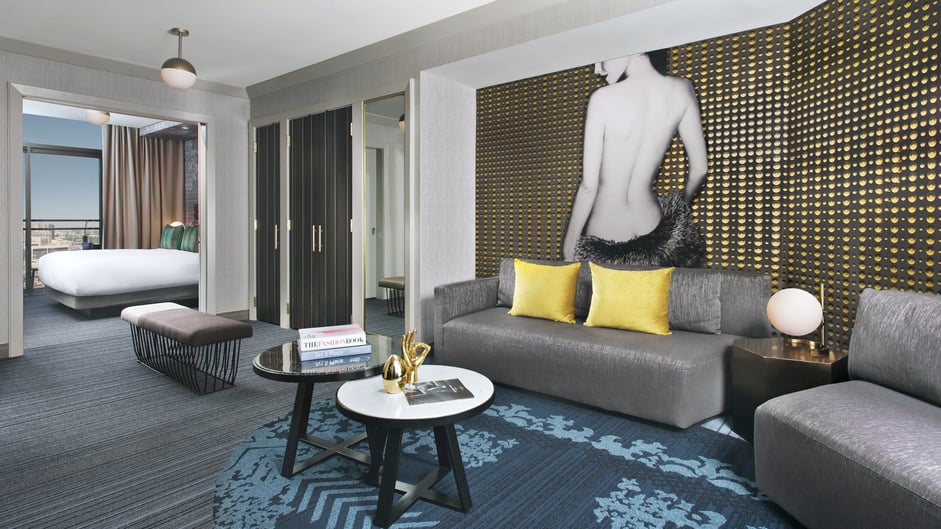 Photo: Anthony Mair
The Cosmopolitan of Las Vegas is making some enhancements that will only improve its reputation for luxury and modern design. Despite opening a mere six years ago, the resort is already undergoing a widespread renovation project that will dramatically upgrade 2,895 of its 3,027 rooms.
"It's time for a change," says Patrick Nichols, Senior Vice President of Strategy and Business Development. "Making sure everything is fresh is important in the high-end luxury market."
The project got underway over the summer in the Boulevard Tower, which should see all rooms renovated by the end of the year. The Chelsea Tower will see renovations begin after the Consumer Electronics Show hits Las Vegas in January with work complete by the end of 2018. About 150 rooms will be under renovation during two-to-three week periods that won't disrupt routine operations.
Nichols describes the revamped Terrace Studio as "fresh, simple and residential" with a comfortable layout. It's the most common unit in the resort and the makeover includes a brighter look with added lights, modern stylish furniture and new contemporary artwork. Similar upgrades are also seen in the Terrace One rooms and Terrace Suites as well as Reception Suites.
Wraparound Terrace suites, with balconies that bend around the corner of the building, are designed to feel like urban penthouses with neutral colors, reflective finishes and adventurous patterns. The bedroom is "slightly more modern but comfortable," adds Nichols. The master bathroom includes two separate entrances from the bedroom, a large walk-in shower and dual vanities. The kitchen features a wet bar, fridge and wine cooler. The City Rooms and Suites follow a similar concept.
Nichols emphasizes that the renovations affect every corner of the units, from top to bottom. "We went down to concrete floors and studs," he points out. "Everything is brand new."
Designers submitted proposals and 14 test rooms were physically built. Final concepts from New York's Virserius Studios and the hotel's own in-house design team were determined after feedback from select guests and employees. "We wanted the best of the best in design, layout and finishes," says Nichols.
Technological enhancements are a major component of the upgrades. Swipe keys are being phased out in favor of RFID technology that allows you to simply to hold the card up to the door in order to unlock it. Future Bluetooth technology is in development that would allow the customer to not only unlock a door with a phone, but also check-in remotely and avoid the lobby altogether. There will be at least one 65-inch television in every room, upgraded lighting and iPads for room controls, room service and other functions.
Rose, an artificial intelligence chatbot, can be used to order towels, toothbrush, a cheeseburger or almost anything else to enhance the hotel experience. "She's like the concierge during your stay," says Nichols.
Watch the changes unfold at the Cosmopolitan during your next visit to Las Vegas. Allow Cirrus Aviation Services to arrange your reservation the next time you book a flight. Just call 702-472-9714.
By Rob Kachelriess