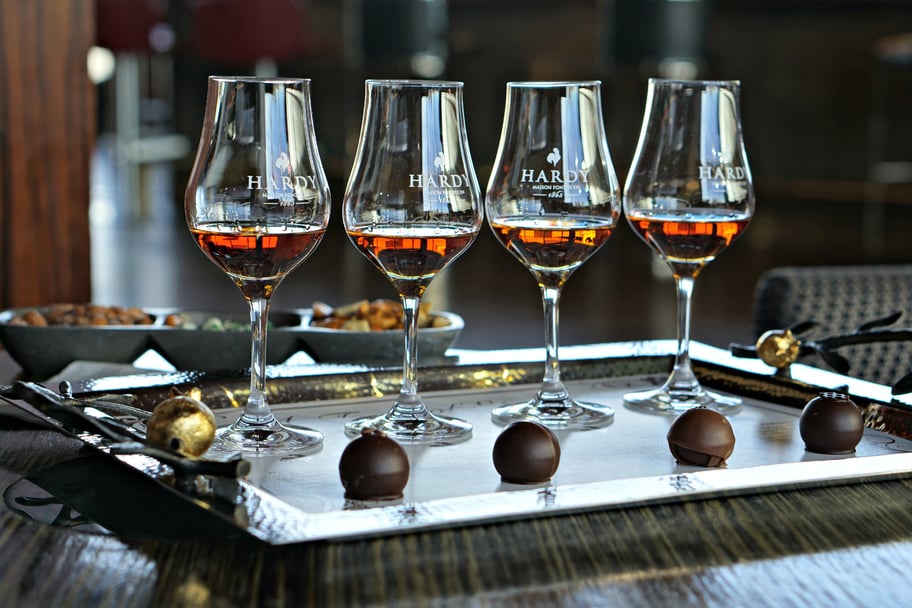 Story and Photo by Rob Kachelriess
Lovers of fine cognac have a good reason to visit the Mandarin Oriental in Las Vegas. The Sky Lobby's Mandarin Bar on the 23rd floor is carrying a flight by the prestigious Hardy family of France that includes 200 years worth of premium cognac in one serving.
Known as "A Taste of Eternity," the flight features four approximate one-ounce pours for $130 and is paired with bites of European craft chocolate. The cognac selection consists of:
Hardy Noces de Perle
Aged a minimum of 30 years in Limousin oak, the blend of 10 different Grande Champagnes is delicate with notes of vanilla, leather, peaches and tea.
Hardy Noces de D'Or
The blend of 40 different Grand Champagnes is a full-bodied deep orange cognac with silky notes of honey, wood and spice. Aged a minimum of 50 years.
Hardy Noces de Diamant
Named one of the top 100 distilled spirits by the Spirit Journal in 2003, this post-phylloxera cognac is aged a minimum of 60 years in Limousin oak with notes of apricot, almonds and leather.
Hardy Noces d'Albatre
This masterpiece was collected by Armand Hardy right after World War I and aged a minimum of 75 years. It's so rare, only 300 units are released each year. The retail price of a bottle is at least $3,000, making the inclusion of this 100-percent Grand Champagne Cognac in the flight a true privilege.
While each serving has its own unique taste, they're all incredibly smooth without the harsh bite that some drinkers associate with old spirits.
"We are considered one of the most feminine cognacs in the industry" says Benedicte Hardy, a fifth-generation family member representing the brand.
The Mandarin Bar also carries Hardy Legend 1863, which is considered an easy introductory cognac for new drinkers with notes of coffee, vanilla and toffee.
In addition to the Mandarin Oriental, Hardy Cognac is served in the Palms, MGM Resorts properties, the Venetian and Palazzo (where it's offered in the ultra-exclusive Paiza Club and the high-limit baccarat table).
"I believed in the U.S. before anybody else did," says Hardy. "And Las Vegas is our main focus for the luxury market."
In addition to the United States, the company has been expanding rapidly throughout Scandinavia and Russia. The Asian market is important as well with its presence in Malaysia especially strong. Sales in China are expected to double within the next two years.
However, the best way to enjoy the fine quality of Hardy is with "A Taste of Eternity." The next time you're in Las Vegas, pay a visit to the Mandarin Oriental to enjoy this rare flight. Cirrus Aviation will handle both your flight and your reservation at the Mandarin Bar. Call 702-472-9714 to make plans today.